Love, Joy And Happiness After Years Of Hardship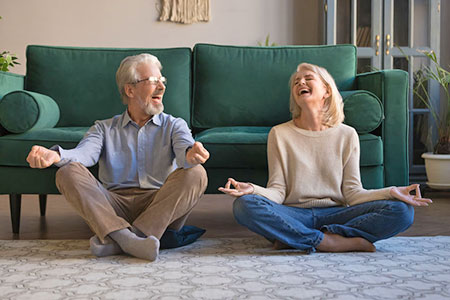 I have a client who used to be extremely depressed. I recommend she speak to a therapist or counselor instead, because I felt that is exactly what she needed at the time. She had been harboring a lot of bitterness, grief, sadness, anger and other toxic negative emotions for a very long time. She needed professional help that I felt was beyond my scope of expertise.
So, she found a therapist and went for counseling, but months later she told me that the only thing she felt she accomplished was her spending thousands of dollars on help she never really received. She had still found no relief from her deep distress.
She had been bitter for a long time. While raising her children and attending church, her husband would cheat on her. She also worked the entire time the children were young, until they graduated. Meanwhile, he would leave on 'business trips' to go and gamble away their hard-earned livelihood, and spend time with other women. Then one day, he met someone he wanted to marry. So, they divorced and he moved far away to be with his new wife. He was a narcissist.
Her sadness and grief was also due to the loss of her mother, whom she had taken care of for 20 years after her father passed. She sacrificed a lot to dedicate herself to serving her mother's needs. During this time she had no notion of self-care. She suffered on all levels: emotionally, physically, spiritually. She even gave up going to church. She was slowly dying inside and didn't even know who she was anymore.

Then one day she found that she had become very, very angry. Furious. Livid. Fuming. And this all-consuming anger was slowly destroying her soul. She was in pain all the time and no longer found any joy in living.
You're strong. You survived living through the main pain of it all. You will survive the healing time. Things will get better. Even better than better ~ Karen Salmansohn
In my second consultation with her, during which she indicated that the therapy did not help her at all, she told me that she wanted to talk to me again because she actually felt better after her first reading with me. "Talking to you works better for me than all of the counseling I have had with a professional therapist," she said.
So, we started working together on a regular basis. One of the most powerful spiritual tools she discovered with me was to keep a gratitude journal. She says it gives her sense of peace and calm, and improves her inner guidance. I also told her that spirit wanted her to look at each of her days as a 'present' and to take better care of herself, and actually give herself a 'present' every day! This present could be nothing more than taking a few minutes once or twice a day to just be fully present in the moment…and appreciate all the good things she already has in her life. I told her that when you silence the mind, you connect with your inner voice or God within, which I believe is your higher self helping you to see clearly. It takes the 'veil' away so you can see things in a way you never have before.
In time she began to feel more connected with life around her, and she even enrolled in a meditation class where she connected with other people who found a deep sense of relief, comfort and guidance in their shared spiritual practice. She wanted to do something where she could connect with people, but didn't want to go back to her former church, because she no longer felt comfortable there. The meditation group continues to be a source of great joy in her life.
Meditation can help us embrace our worries, our fear, our anger; and that is very healing. We let our own natural capacity of healing do the work ~ Thich Nhat Hanh
I've been reading for her now for six months, and she told me that she has found a new perspective in life. She now believes there's a parallel universe for each of us. And the only difference is in our thinking. We can live a life of hell, or heaven. For happiness and joy depends on how we choose to think, and see the world. She says I gave her the gift of personal freedom through my guidance. It helped her to make positive choices and see things differently.
She has now also met a new man, who takes her places and does things with her. He is her meditation partner. It looks like they might marry soon and they are also planning a trip to Hawaii. He too had been hurt by his ex-wife. I am so happy she found contentment and joy! The first time I read for her she was in so much pain and distress. I could hardly make out what she was saying through all the tears and bitterness. She said that she was feeling like ending it all, and it caused me to have some pretty serious concern for her at the time. This is also why I felt her talking to a professional counselor or therapist, or even a doctor, would be best.
But sometimes maybe all we need is some unconditional love, and a little spiritual guidance.

About The Author: Moon Goddess

Moon Goddess is a third generation empathic healer and seer. She started to give healing readings to people more than 20 years ago. She has always been interested and studied all things metaphysical from a young age. Being hypersensitive she can feel and see things before they happen. Utilizing the Tarot, and with the help of her Guides, she is a source of support for many people all over the world. After he passed over, her grandfather kept his promise and came back to say goodbye and gave her the most amazing experience. Moon knows there truly is a Heaven, and it is wonderful! Sharing her experience has helped many people after they have lost someone, or anyone experiencing some form of grief. Get a reading with Moon Goddess now at PsychicAccess.com.