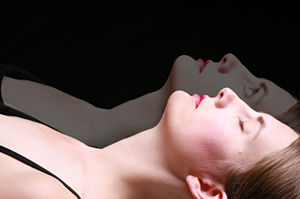 I am a believer in the concept that we have several exit points during our lifetime, relating to moments when we can leave. I call this physical existence our 'harsh schoolroom'. Life is generally hard, and I find it actually makes it easier if we can look at it from that perspective.
I have yet to meet an individual who has known a complete fairytale existence in their lives. We have all experienced some magical moments, but not as magical as some far-fetched novels might portray.
Earth is not our primary home. I can resonate with teachings that state we are given anywhere between five and seven exits points during our lives. At times we feel as if we are banging our heads just to survive on a daily basis, financially and emotionally, yet deep down there's an instinct inside of us which causes us to remain and to complete what we incarnated to accomplish.
Do not seek death. Death will find you. But seek the road which makes death a fulfillment ~ Dag Hammarskjöld
A near death experience is one of those exit points. If you who have experienced one or more, you might remember a distinct out of body experience, and perhaps even meeting up with deceased family and friends, or spirit guides telling you in no uncertain terms that you had to get back to planet Earth, because there was still work to do and people who needed your help there.
Some teachings suggest that a soul may decide to take an exit point whilst still in the mother's womb, because the soul chooses to abort before taking on the challenges of this world. They say a second exit point can be during the soul's birth, because the soul decides not to hang around long enough to take on its physical form.
My most profound near death experience, and which I have no doubt was one of my exit points, was after being admitted to hospital with cerebral malaria, pneumonia and alcohol poisoning. The cerebral malaria in itself is rarely survived. I don't recall anything of the intensive care connected to my bloated physical form. What I do remember is the various people who came into the ICU ward to see me, as I was actually looking down upon them.
Then, I remember being present in front of a council of  what looked to me like three wise old beings, and although I cannot recall their precise words, I was being told to get back and finish what I came here to do. So here I am.
PsychicAccess.com.


Shani is a qualified practitioner in Reiki, aromatherapy, reflexology, body spin, and animal telepathy who received psychic development training at the Arthur Findlay College of Psychic Research in England. A published writer, her articles and predictions have appeared in several respected magazines and on psychic websites, and she has read for many celebrities and even heads of state in Africa. Though she was born in London, Shani has traveled the globe and has studied the art of African Mysticism, bringing her unique flavor to those seeking her incredible talents. Get a reading with Shani at