The Soul Future Of Past Relationships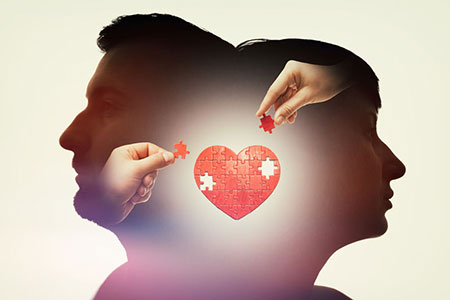 To outward appearances, endings are a structural matter – now there is a relationship, now there is no relationship. From the soul point of view, ending is a different experience of the relationship.
Ending is not literal at all, but rather a radical shift in imagination. For example, a woman's father passes on. In her soul the relationship may now intensify and may become the dominant myth shaping her other relationships, her career, and every other aspect of her life.
Memories of her father may now become more vivid than ever, and new feelings may surface. He may be more influential in her life now than when he was alive.
Another example might be a man who divorces his wife, thinking that now his thoughts will turn toward a new life. With the struggle of decision and separation now passed, feelings formerly nudged out of awareness now come to the forefront.
Completely unexpectedly, he now has dreams of her seducing him, suggesting that in some way 'she' now has renewed desired for him. Years later, he says what many people say: "I didn't have to go through that divorce. If only I had known then what I know now…"
Apparently there is something in every relationship that is eternal, that goes on forever, and that wants to be exempted from the life-decision to cut ties. If you are experiencing this, it is not your imagination. You are simply being quite human.
Obviously, our relationships are not as simple or as limited in scope as we sometimes like to think them to be. There are only so many people we come to know in a lifetime, and an even smaller number with whom we live intimately.
Some people come into our lives and quickly go. Some stay for a while, leave footprints on our hearts, and we are never, ever the same ~ Flavia Weedn
These relationships are all important to the soul, whatever decisions we make about them in our current world.  They initiate us into ourselves. They shape our lives, not only the story line of our biographies, but also the character of our souls.
In life, change and forgetfulness may give the impression that relationships are temporary and conditioned by the events of time, but to the soul remembrance and eternal connectedness are more important.
The ending of a relationship may give the soul added emotion and attachment, not less (surprisingly). If we are going to live soulfully, we have to respect these special preferences that lie deep in the heart.

About The Author: Mountain Sage

For thirty-six years, Mountain Sage has been providing her much sought after insight, coaching and spiritual counseling to clients locally, as well as internationally. Many other psychics, spiritual counselors and healers, professionals, celebrities, and individuals of all backgrounds, have relied on her gifts to find their way through muddled times. Mountain Sage is the student of an exalted Gurugi in Bombay, and Shaman of the Fireheart Sweat Lodge in Santa Fe, New Mexico. Her extensive training includes Oracle, Healing, Universal Laws & Principles, the Sacred Circle and Psychic Shielding. She specializes in Ascended Masters, Altars, and Minerals. She holds the great honor of Oracle Carrier by her tribe due to her outstanding psychic ability, passion for the psychic realm, integrity and sacred work. She blends mystical understanding with practical application, and her art is connecting with the Divine. Get a psychic reading with Mountain Sage at PsychicAccess.com.