Stay Spiritually Uplifted This Winter Holiday Season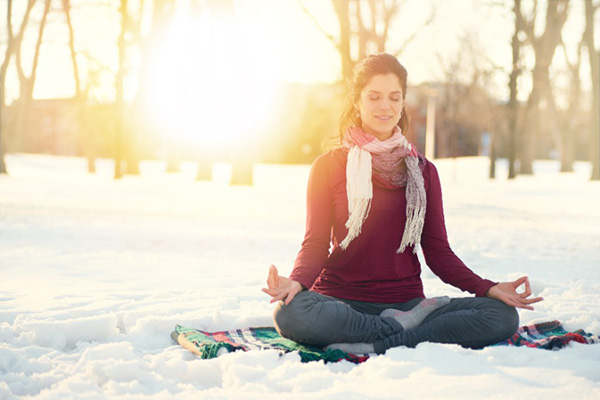 For some people, the approach of winter is a fantastic time of the year. They love to walk amongst the golden autumn leaves, breathing in the crisp air that enlivens the soul, while looking forward to the festive holiday season.
For others, the holiday season is a time of fear and dread. It is for some that time of the year when they feel more bored, lonely, depressed and lacking in enthusiasm. I used to be one of those people. I could not wait for it all to be over, so the brighter days of spring could arrive. But these days I have a very different outlook. I have learned ways to lift my spirits during this time of the year. Yes, winter holiday period does not have to be a 'dark night of the soul!'
If you are currently also dreading the fast-approaching holiday season, the following self-care strategies can help you turn this time of the year into a period of true joy and upliftment. It will assist you in navigating the winter through to the spring effectively and happily, while maintaining emotional well-being and keeping your spirits high.
Intentions & Goalsetting
It is always great to have something uplifting to look forward to, especially when the nights are cold, long, and lonely. This time of the year is the perfect opportunity to set new goals or personal targets that will add value and excitement to your life. No need to for New Year's Eve to make your resolutions. Start setting those intentions
Once you have set your goals, begin to meditate on and visualize those intentions. Once you get your intentional energy rolling, the Universe will assist you in manifesting your endeavours by cosmically aligning you to the desired end result.
It is the life of the crystal, the architect of the flake, the fire of the frost, the soul of the sunbeam. This crisp winter air is full of it ~ John Burroughs
Meditation & Visualization
Make some time to meditate, read an inspiring book, or listen to a motivational podcast. Yes, you absolutely do have the time. For example, when I wake up in the morning, I do not check my phone notifications. Instead, I do a quick visualization meditation to manifest the kind of day that I choose to have that day. Then I like to listen to an upbeat coaching lesson while I take a shower. It does not disrupt my daily schedule and really gets me off to a good start!
And in the evening, instead of wasting precious time once again on my phone or tablet, only to get infuriated or saddened by my social media feed, I rather do a guided meditation before settling down to sleep. Not only is a much better use of my time, but it also improves my quality of sleep, general mental health, and my connection with spirit.
Presence & Focus
Does your extensive 'to-do list' pop or your current life challenges constantly dominate your thoughts all day long. Is your mind racing as to what you ought to do first?  Stop and be present suggests spirit. All you should focus on is the given task at hand.
Life's problems will surely take care of itself, so worrying about it constantly will make very little, if any difference. Problems and challenges are resolved by taking action, instead of pointless worrying and obsessing. Do just one thing at a time, and before you know it the entire matter will be dealt with. All you really need to do is have a basic plan for the way forward, and then concentrate on what you are doing right now, and nothing else.
Breathwork
Do some controlled breathing exercises to induce emotional, physical and spiritual health. When done correctly, breathwork is powerful in alleviating stress and tension throughout the body, while raising the spirit simultaneously.
Here is my favorite breathwork exercise. While in a standing position, ensure that your feet are shoulder-distance apart.  Take three deep, slow breaths while engaging your diaphragm muscles. Breathre in through your nose and then out through your mouth, ensuring that your lips are slightly parted as you exhale. While doing so, imagine yourself becoming taller, stronger, and more empowered with every breath.
Thank goodness for the first snow, it was a reminder–no matter how old you became and how much you'd seen, things could still be new if you were willing to believe they still mattered ~ Candace Bushnell
Exercise
Go on a hike, or just a walk. It is essential for health and well-being to experience as much natural daylight as possible during the winter months. Try to get outside when you can, particularly at midday or on a bright day, as doing so can help increase serotonin levels (the happy hormone) and have you feeling spiritually uplifted in next to no time.  Failing this, during the day, try to sit as close to the window as possible.
Choosing pale colours for your internal decor can also help, as this can help to reflect light from the outdoors.  Research suggests that walking outdoors for approximately one hour can be as beneficial as light therapy for helping people to cope with the winter blues.
Declutter
An unorganized, cluttered living space can not only sap your energy, but it also lowers our spirits. Simple things like a spring cleaning in winter, a bit of feng shui, and a quick coat of paint on drab walls can do wonders for one's emotional well-being. So can freshly cut flowers placed tastefully in a vase to liven up your home.
Aromatherapy
Mother Nature knows how to balance and rejuvenate the human spirit. That is why she provides us with wonderful plants and flowers that produce fabulous essential oils to heal our body, calm our mind, and uplift our soul.
I am not a qualified aromatherapist, but I have enjoyed experimenting with mixing my own aromatherapy oils over the years.  One of the concoctions I enjoy the most transports me to a place of bliss. It smells divine and enhances my sleep and meditation. About an hour before retiring, I place three drops of lavender and four drops each of neroli, jasmine, bergamot and rose into an oil burner.
Try it sometime, you will wake up with a smile on your face the following day.  For safety's sake, remember to snuff out the candle flame before you sleep!
Winter is the time for comfort, for good food and warmth, for the touch of a friendly hand and for a talk beside the fire: it is the time for home ~ Edith Sitwell
Novelty & Adventure
We are creatures of habit and often find it challenging to leave our comfort zone. Even so, doing something new can be incredibly uplifting. Try that new restaurant, take up voluntary work, learn a new language, start a hobby you have never done before, or seek ways to expand your social circle. The spiritual, emotional, and social benefits of doing so can make stepping out of your daily grind really worth it.
Fun & Laughter
Learn to laugh more! Yes, even when it is snowing. Did you know that laughter can change the chemistry of your brain?  Furthermore, it helps to lower stress, boost immunity, and even help promote mental health.

About The Author: Lucinda

Lucinda is a highly trained Intuitive and Empath, living in a beautiful village in North Yorkshire, England. She possesses the rare gift of understanding a client's personal pain and has been through many challenges, herself, which has only made her stronger! It is both her calling and her happiness to help those in need. And whenever she needs a little help herself, her Guides are always there to assist in her development and provide clear interpretations for her clients. Prediction has always been a great tool she could count on to accurately foretell events, but Lucinda also draws on her expertise with Dream Interpretation, Numerology, Angel Cards, Law of Attraction and Life Coaching to provide full and detailed solutions to any problem. A member of AMORC and Beyond Freedom Evolution, she provides inspiration, education and personal support for spiritual development. If you'd like answers or want to attract your desires, you can find Lucinda at PsychicAccess.com.