The Courage To Rescue Your Inner Child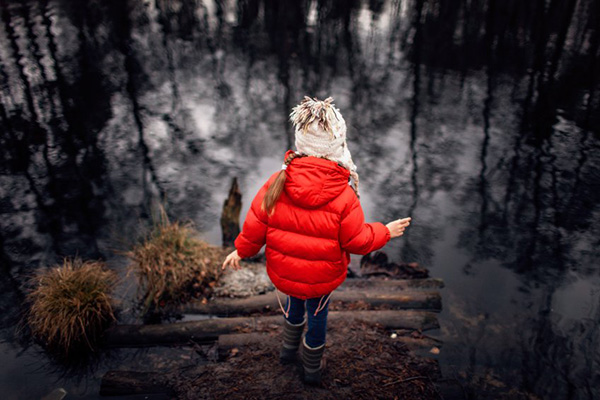 Many people wish they had better memories of their childhood. For some the traumatic experiences of their youth is something they would much rather forget. But spirit has shown me that each piece of our life happens for a reason.
Learning to overcome and rise above the negative events in our life enables us to grow and expand. We do not get to pick and choose the parts we like, and discard the rest in the deepest closet of our mind. We become an empowered, improved version of ourselves when we find healing and forgiveness by redeeming even the worst parts of our life experience.
We all matter. We all bring unique gifts to this world. No matter what has happened to us, we must rescue every lost or damaged moment of our life journey. Those tragic events and awful experiences are what molds us into who we are today and who we are meant to become.
Nobody chooses some the things that might happen to them: family dysfunction, separation, divorce, rivalry, abuse, loss, death. As children we often blame ourselves for the things that happen around us, or we block it out, never wanting to remember it again. But this only means that you have left a part of yourself behind in the darkness of the past. But now that you are older and wiser, wouldn't it be awesome if you could go back and save that part of you?
As a little girl I loved horses and dogs, but we could not afford to keep any. I made up for it by drawing them. My parents could also not afford to buy me expensive drawing paper, so I had to wait until my mom returned from the grocery store, because I would then get the used brown paper bags to draw on. It may seem somewhat silly, but to this day I still buy lots of paper whenever I get the chance! One would think there was going to be a shortage on paper, based on how I tend to stock up.
By connecting your inner child to your internal being, you bring out the hero in you that is inside all of us ~ Kim Ha Campbell
Drawing was the only way I could fully express myself back then. When I was eight years old, drawing also helped me stay sane after a series of very traumatic events. A distant relative had sexually assaulted me. My world changed drastically overnight. I felt ashamed and dirty. My mom even cut off all contact with my cousins, in fear they might find out. Life had become miserable and terrifying. As a gifted, sensitive child, I suffered intensely and I was lonely. My drawing is all I had to help me cope.
These childhood memories haunted me for many years, until I finally found the courage to break free from a self-limiting, victim mindset to embark on a healing journey to reconnect with my inner child. It was a dark and treacherous mission. Shadow work is not for the faint-hearted, but I had lots of support from the spirit realm. Today, I also understand that I had to find healing for myself first, for me to become a healer for others.
One of my favorite tools in this process was self-healing visualization exercise I did regularly. The meditation starts with me walking down a path, no one else around. My focus is on a huge tree ahead where I had left behind a part of myself. As I walk along the path, I see a young girl sitting all alone under the tree. As I approach, I recognize that it is me at the age of eight.  At this point, I sit down with my inner child and talk to her to see if we can become one again.
"I am you all grown up," I would say to my inner child. "And if you want to ask me something you can."
When we honor our inner child's feelings, we release the emotional hurts that we're still subconsciously carrying around ~ Patricia Hope
To this day it still makes me cry when I remember how she eventually asked me, "Will they start loving me again someday?"
My answer was simple: "They never stopped. They just didn't handle it very well in the past. But I am big and strong, so from now on I promise to protect you myself, and I will always love you."
And I made good on this promise to my inner child. Did I ever own a horse or a dog? I certainly did, and still do. Currently, I am the proud owner of several beautiful horses and dogs. As for drawing paper…I own a stockpile large enough to supply a small arts and crafts store!
Do you have an inner child that needs to be rescued? Know that you too have the choice to abandon your inner child and leave apart of yourself behind under a tree, or you can take her tiny, vulnerable hand and raise her up, to walk together towards a bright new future. I refused to leave my inner child there, all lost and alone. As a responsible, confident adult, I now have the power to protect her.

About The Author: Krystal

Krystal's psychic talents with people and animals are as remarkable as her non-psychic adventures. Divinely gifted with multiple avenues for reading energy, she's hosted TV and radio psychic shows that quickly skyrocketed to #1. She has read for musical celebrities, provided lectures and is an Ordained Minister who has performed marriages and eulogies. She was also the first female race car driver, holding 4 titles, her accomplishments immortalized in a book! For over 4 decades, she has connected with her Guides, receiving visions and info from just the sound of a client's voice, and she's taught many devoted pupils to tap into and harness their own special gifts. From her dream home in Ohio on 200 acres that house a menagerie of animals, including mini-horses, Krystal can be found whittling walking sticks on her porch that tell a person's life story, and her readings will hone in on your unique life story, providing clarity on any concern. She brings balance, love, and healing, not to mention love and light to your life path. She has 12 natural spiritual gifts that require no tools to get the message across. Her guides offer detailed insights on all you need to know at the moment you enter her session. If you would like a reading with a psychic prodigy who's been reading since the age of 5, you can find Krystal at PsychicAccess.com.