Working With Raguel And Zadkiel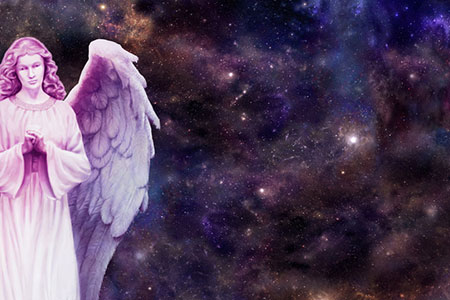 There are two Archangels that I do not frequently see in readings, namely Archangel Raguel and Zadkiel. They typically do not work as guides, but rather serve as consultants that only come in for specific tasks, as and when needed. However, if their energy resonates with you, feel free to ask them for increased assistance.
Archangel Raguel
Archangel Raguel steps forward as a 'finding angel.' He shows himself as a shepherd surrounded by a flock. Raguel keeps us on task and guides us to find our own tribe or 'flock.'
I hear time and again from my clients that they are afraid to make important life changes they know they need to make, because they are afraid of being alone. They also don't know any other like-minded people in their neighborhood or town, and much less where to find them.
Raguel is the archangel of belonging and fellowship. If you are facing a similar problem, know that with the assistance and support of Archangel Raguel you will soon be surrounded by sincere, loving, and supportive friends. He will guide you to become part of a community that shares your values and beliefs.
Whitney Hopler writes on LearnReligions.com, "When it comes to dealing with unjust situations in the world around you – such as crime, poverty, human rights, and taking care of the earth's environment – Raguel may lead you to get involved in certain causes to become a force for justice in the world, doing your part to help make it a better place."
Angels descending, bring from above, echoes of mercy, whispers of love ~  Fanny J. Crosby
Archangel Zadkiel
Archangel Zadkiel is my 'go-to angel' for anything related to mental acuity and memory. He is wonderful when one is studying for tests, and will help you remember the details of events, courses, meetings, workshops, and so forth. Whenever I am attending a training session, I always call on Zadkiel to help me remember the content, so that I can replay and apply it later.
Zadkiel is also wonderful at helping us set an 'internal timer' to remind us of tasks we need to complete, or goals we are working towards.

About The Author: Megan

Megan was born with wide open gifts, experiencing dreams and premonitions at a very early age. She has had 30 years of daily tutelage from Guides, Archangels, Ascended Masters, and the Ashtar Command. Since 1993, Megan has been providing honest and compassionate readings and healings, starting with friends and family, then transitioning to a professional practice, in 2006. She's certified in various psychic and healing methods, including Reiki, Angel Work, and specializing in relationship readings, giving detailed info on how long a relationship will last, whether the partner is honest, and what their intentions are going forward. Megan has accurately read for clients around the world. She is very proud and grateful for her client loyalty and has a long list of devoted clients who have worked with her for years, many since the inception of her practice. To get a life-changing psychic reading with Megan reach out to her today at PsychicAccess.com