Uproot Limiting Beliefs With Denial And Affirmation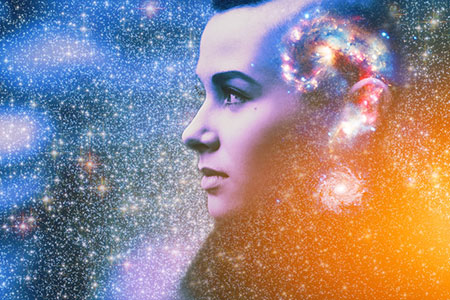 Denials and affirmations are two methods of prayer or meditation that can be used to shift our experience of life. They are simplistic statements of truth that enable us to reprogram our subconscious mind and consciously create at a higher level.
These spiritual techniques are used by many in the New Thought and New Age spiritual movements and are amazingly effective for breaking old habits and thought patterns.
These two spiritual practices stem from the understanding that there is one Infinite Consciousness that is by its very nature benevolent and good. Many names have been given to this Infinite Consciousness or Infinite Mind, such as God, Source, the Universe, Higher Self, Spirit, the Divine, and so on.
The premise of denials and affirmations is that our individual mind is connected to the Divine Mind, and also that our mind is creative in the same way as the Divine Mind. This concept is found in varying forms in various religious and spiritual traditions.
Hindu philosophy, for example, is based on the belief that Brahman is the supreme universal force and ultimate reality to which each soul or athma is connected. The Buddha teaches, "Our life is shaped by our mind; we become what we think. Joy follows a pure thought like a shadow that never leaves."
In the Christian tradition, Jesus says in Matthew 17:20, "Truly I tell you, if you have faith as small as a mustard seed, you can say to this mountain, 'Move from here to there,' and it will move. Nothing will be impossible for you."
When I was going through a difficult time in my life, Jesus jokingly came to me with these words. He has been one of my spirit guides for many years, but on this occasion, I didn't find the 'mustard seed' metaphor very amusing.
I'm not interested in your limiting beliefs; I'm interested in what makes you limitless ~ Brendon Burchard
Then he said, "Not only are you trying to move the mountain in front of you, you are also attempting to climb over it." At this point I had to laugh, because I realized that even if my circumstances were extremely challenging at the time, I was making it all the more challenging by obsessively stressing over it.
A belief is something we keep thinking repeatedly. And what we believe ultimately becomes our reality. Through mindful practices, such as affirmations and denials, we can change our beliefs, and therefore our reality.
Throughout our life our mind is programmed with certain beliefs. For example, the belief that we should 'never talk to strangers' is very wise and useful when we are young and vulnerable, but it does not really serve us as adults.
A denial is a type of prayer or meditation that clears out these old patterns from our consciousness. It is not however about denying an experience, but rather it is denying that the experience has any power over us.
If we are going through a personal difficulty, for example, it is unwise to pretend that the challenge itself does not exist, but it is empowering to deny it having power over us. Since we are eternal beings that inhabit the realm of the Infinite, finite things cannot have any power over us.
You begin to fly when you let go of self-limiting beliefs and allow your mind and aspirations to rise to greater heights ~ Brian Tracy
An affirmation is a new positive pattern that reflects infinite potential. It is a positive statement of what we do want, rather than a focus on what we do not want. We know that with the Divine Mind all things are possible, and that God is everywhere and in all things. An affirmation is a recognition of this infinite possibility that allows us to establish a new belief or thought pattern.
Think of your mind as a closet full of new and old things. A denial is a method of clearing out the old stuff from the closet that no longer fit you or have gone out of style. An affirmation on the other hand is a like purchasing fashionable new designer clothes that fit you perfectly.
Let's say you have a large bill payment coming up and you do not know how you will be able to afford it. You cannot deny that the bill exists, because you have the unwelcome piece of paper in your hand that proves the bill exists. However, what you can address with a denial is the idea or thought of lack or scarcity that you may be giving power to in your mind.
The next step will be to replace the false belief of 'lack' with an affirmation that reflects the infinite. For example, "Lack and limitation have no power over me. I release any beliefs in my own consciousness that is contributing to lack. I dwell in infinite wealth and abundance. This bill is already paid, on time and with ease."
Some beliefs and thought patterns in our consciousness are deeply embedded, so it can take some time to uproot and eradicate. In my own life it took years for me to release certain deeply embedded patterns from childhood. For example, growing up there was a saying in my family that 'money doesn't grow on trees.' I became aware how false this notion was when I started my own business.
"Few men during their lifetime come anywhere near exhausting the resources dwelling within them. There are deep wells of strength that are never used ~ Richard E. Byrd
Early on in my new practice, a woman asked if I would do a barter transaction with her. She asked me to do a reading for her, and in turn she would compensate me with fresh, organic fruit from her orchard. In that moment I heard my guides say, "You see, money does grow on trees!" In an instant that false belief from my childhood was uprooted.
Trust that if you use a denial and affirmation, the Universe will assist you in uprooting even the most deeply held limiting beliefs. It is recommended that you always follow a denial with an affirmation. The denial clears out the old pattern and the affirmation then allows the new pattern to be established.
Then follow up the practice with gratitude. For example, with the bill that needs to be paid, once the denial and affirmation is done then move into a state of gratitude. When the thought of the bill comes up, just reaffirm that it is already done.

About The Author: Cosmic Coach

Cosmic Coach (James) is a Christian Minister, a teacher and an Energy Guide. He has been seeing and talking with Angels and Guides since he was 7. As a teen, it dawned on him the unique connection he had. He prayed for others at his family's Christian church, and received direct messages and healing energy from Spirit. As a young adult, he became ordained and is still attached to the Christian Church today. After mentoring with a remarkable psychic woman, he developed his own tools and began his full-time psychic practice. James has mastered many techniques in his psychic practice to connect with the unique heart center of each of his clients. He is a Reiki Master of many traditions, who is adept at crystal healing, card readings, and delivering detailed messages from Angels and Guides. James is always expanding the base of his knowledge to broaden his reach and serve as many clients as possible. To experience a unique reading personally designed for you, you can find Cosmic Coach at PsychicAccess.com.