The Power Of Prayer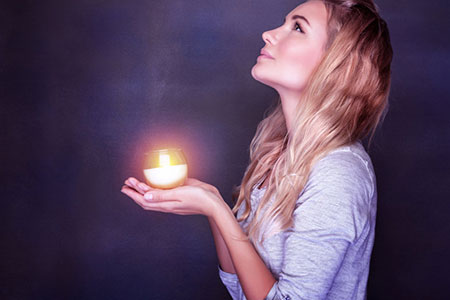 I recently took part in a mediation and prayer group for the benefit of a country facing extreme turmoil. People from all over the world joined the event online via Zoom. It was a truly memorable experience that reminded me once again of the true power of prayer.
I have participated in prayer groups and intention-setting events for individual people and animals before, but never anything on such a global scale. The energy I felt being generated from so many participants from all over the world was truly phenomenal!
Later that evening, I was watching a YouTube clip about a lady who had been in a coma for some weeks and her family had been informed that it was unlikely to survive. She had suffered severe trauma to her internal organs in a terrible accident. A prayer link had been circulated on her behalf all over the world on social media, requesting prayers for her healing and recovery.
In the video clip, she tells the story of her out-of-body experience whilst she was in a coma. She describes the beauty of the Other Side and meeting her deceased loved ones and spirit helpers. She also mentions how she was fully aware of the energy vibration of so many prayers reaching and enveloping her from all corners of the earth. So powerful were these prayers that it brought her back to this world and set the scene for her ultimate recovery and healing.
A prayer is a plea requesting intervention and help from a higher source or greater power. Prayer is a significant aspect in most, if not all religions and spiritual traditions. Jesus said, "Therefore I tell you, whatever you ask for in prayer, believe that you have received it, and it will be yours." In Buddhism it is believed that prayer is the way to destroy fear and banish sorrow and replace it with hope and healing. Sadly, I find many spiritually aware people do not always make use of this wonderful spiritual resource on a regular basis.
Prayers are the very highest energy of which the mind is capable ~ Samuel Taylor Coleridge
When I was in my teens, my father converted to spiritualism, from being a complete atheist, because of the undeniable proof of life after death he'd been given evidence of at a spiritualist church service.
Leading up to his conversion, my dad told me he had prayed in desperation, although he didn't really believe in anything. Things had gotten tough for him at the time, as he was not earning enough with his music career to take care of his family. He was panic-stricken and instinctively decided to pray for a miracle when he applied for a job advertised in the newspaper – a position for which he was not at all qualified and had no experience.
Well, not only did he get the job by charming his way through the interview process, but he subsequently achieved record sales as a sales representative for the company. The director later told my dad that he knew all along during the interview that my dad was 'bluffing,' but that 'something told him' to hire him anyway!
Prayer changes us in ways that we never thought would be possible. When we are unhappy, prayer can lift our hearts and fill it with unspeakable joy ~ Julia Bristol
A short time later, my dad became a firm believer because of his experience at a spiritualist church. He subsequently visited Harry Edwards, a renowned spiritualist healer, to help him with a chronic ulcer which had plagued him for years.
My father later loved to tell the story of how 'loud Beatles music was playing' as Mr. Edwards worked on him in healing prayer. Already a believer, my dad was even more convinced when a few months later his doctor could find no trace, nor scar tissue from the ulcer in his medical tests.

About The Author: Shani

Shani is a qualified practitioner in Reiki, aromatherapy, reflexology, body spin, and animal telepathy who received psychic development training at the Arthur Findlay College of Psychic Research in England. A published writer, her articles and predictions have appeared in several respected magazines and on psychic websites, and she has read for many celebrities and even heads of state in Africa. Because of her empathy, people find it easy to connect with her. Every month, she attends a psychic circle and the information that comes through from Spirit never ceases to amaze everyone present. Though she was born in London, Shani has traveled the globe and has studied the art of African Mysticism, bringing her unique flavor to those seeking her incredible talents. What she has taken away from her many travels abroad, is that there is always a sort of longing clients have to be connected to the source of their being. Get a reading with Shani at PsychicAccess.com.