The Eternal Love Of A Mother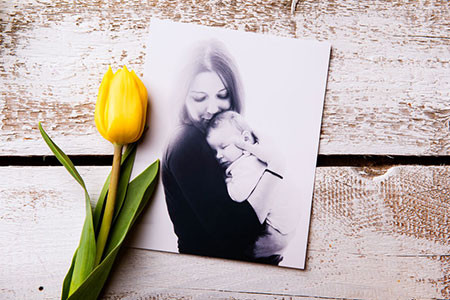 The nurturing energy of a mother is usually the emotional glue that keeps many families together. Whether it is their kindness, generosity, unconditional love or simply their joy and laughter, the mother-figures in our lives are often fundamental in helping us grow, expand, love and learn.
Many mothers must transcend what is possible to achieve the near impossible on an ongoing basis. Regardless of their circumstances, the impact of our mothers is deep and everlasting.
Perhaps it was your mother's triumph over adversity that instilled a deep-rooted sense of perseverance in you. Perhaps it was by observing your grandmother's social interactions that you learned how to function well in your community. There are many examples of how the mother-figures in our lives have nurtured and inspired us.
A mother's unconditional love for her children is the most beautiful bond of love we may ever know. For this most of us should be eternally grateful. We are indeed privileged to have felt such loving care and protection.
For those of us who have lost our mothers, it is comforting to know that they continue to guide, guard and protect us in spirit, as we make our way through this life on Earth. Regardless of the turmoil we might endure, most of our mothers always come through with an amazing amount of love and care, both in this life and the next.
Our mothers can often also do more for us from the spirit realm, than they might have been able to do for us while they were here in this life. It is comforting to know that our mothers and grandmothers, including the mother-figures and nurturers in our extended family, are with us always, combining their earthly experience and newfound wisdom in spirit to impart to us even more than we could imagine while they were on the earth plane.
The only love that I really believe in is a mother's love for her children ~ Karl Lagerfeld
When life is turbulent and we feel that everything is going awry at the moment, remember that we can call on our maternal lineage in spirit for their support, guidance and protection in our hour of need. Nothing can diminish their love for us or the joy and pride they feel as we accomplish even the smallest of things. They are thrilled to continue communicating with us and to support us in whatever ways may serve us best.
Never forget that this deep maternal love extends down through the generations and continues to flourish in spirit. Our mothers are our guardian angels, our spirit guides. Motherhood is eternal.

About The Author: Monica

"What you think about, you bring about; what you believe, you become." This is Monica's philosophy, derived from her twenty-five years of experience as a Clairvoyant, Light Worker and Medium, living in Ontario, Canada. Monica has been a guest speaker at various Spiritualist churches, conveying Spirit greetings and messages from loved ones during Sunday services, All Mediums Nights, Healing Services, Meditation Services and special fundraising events. She's been an advisor to several international business leaders and connects with all of her clients on a level of love light and empathy. She delivers messages containing ideal outcomes and positive solutions with the help of her guides. If you'd like Monica to help shape your destiny, you can find her at PsychicAccess.com.