Is Your History Repeating Itself?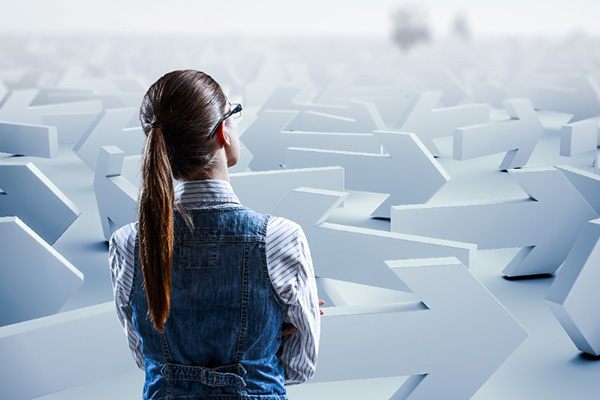 Are you feeling stuck making all the wrong choices and decisions? Are you repeating the same make mistakes? A study at the Max Planck Institute for Human Cognitive and Brain Sciences analyzed the processes that occur before the human brain makes a decision. In this study, participants were asked to press a button with their left, or right hand. They were able to do this at whatever moment they decided, however, they were asked to remember the specific time they recognized making their decision and to relay that information to the researchers.
By observing the participant's brain scanner, it was discovered that the researchers knew the participant's decision seven seconds before the participant knew, based on observing electrical signals within the participant's brain. This is important information, because it validates how much our subconscious minds are making decisions without us fully being aware of the choices we are making.
Although this research is based on making immediate decisions, how often are you aware of where their decisions are being based upon? How can you know if you're making a decision based on old thought patterns and habits, rather than based on higher, conscious awareness?
The philosopher George Santayana famously said, "Those who do not learn history are doomed to repeat it." While this is true on a global scale, this is also true in our personal relationships. My interests in psychology and consciousness originated from observing my family, their unhealthy patterns, and observing the resulting choices I've made myself, in response to those patterns.
Those who don't know their history are doomed to repeat it. You have to expose who you are so that you can determine what you need to become ~ Cynthia A. Patterson
As for me, I grew up in a very difficult family dynamic. My mother had deep rooted psychological issues and as a young child I played the role of her therapist, rather than having a normal, healthy mother-daughter relationship. I often heard at the young age of nine, "Allie, you would make a great therapist." I was always "wise beyond my years."
While I fully realized the relationship I had with my mother was unhealthy, I also knew that I willingly entered this life and that I chose my mother to have this life experience. As a result of this original relationship pattern, I delved into a number of co-dependent relationships after high school, because I was so used to being needed. I overextended myself into a mothering role, where I was essentially dating broken men whose relationships with their mothers were extremely imbalanced. Although I'm an extremely giving and caring person naturally, I made decisions based on these subconscious thought patterns, under the premise that this was the role that I was supposed to play my entire life.
Sometimes breaking a pattern isn't as simple as just seeing it, but that is definitely an amazing first step! Remember, the pattern didn't get there overnight and it takes dedication to love yourself, in order to break unhealthy patterns and addictions.
Once I began to dive inward, through deep meditation to make a better connection with my spiritual teachers, I was shown that being a therapist and healer is part of my life's work and mission. However, I was also told that I was confusing my personal relationships with my work relationships. At the time, it was hard to imagine a mutually healthy relationship, because I kept attracting broken men and had no physical examples of healthy relationships in my life.
Every negative pattern has its root in some belief in limitation, whether others gave it to you… or born out of some prior experience where you made up a limiting belief of your own ~ Suzanne Hosang
Because I have been able to connect with my spiritual teachers, which come through me as a channel from a higher conscious awareness, I have been able to see and break these subconscious patterns in myself. This enabled me to lead a happier, more fulfilling life serving others, as I was always meant to do.
I cannot tell you how much of a relief it is to be able to get out of a perpetual and exhausting cycle of misery! I am happy to state that I am no longer attracting broken men into my life. There's something to be said for leading a spiritual life and striving for a higher evolution of self. Operating off our subconscious minds is operating off of an animalistic part of the self, often from a place of "lack." But we are more than mere animals – we are light beings that have the potential to reach a higher plane of conscious awareness.
If you're feeling like you're repeating a pattern, or feeling stuck, reaching out to a reputable counselor, therapist or psychic can be an excellent start. If someone else can see a pattern that you're unable to see, it provides you the invaluable opportunity to progress in your spiritual and perosnal growth in order to live the life you are meant to live.
Unless we become aware of our dysfunctional subconscious patterns, we will keep repeating the broken chains of our story over and over again. This only serves to further devalue ourselves, perpetuating the brokenness, without ever having the opportunity to cultivate the highest level of Divine Love within our own hearts.

About The Author: Angelic Heights

Empathic, intuitive, psychic from a very young age, Angelic Heights (Gail) learned well the importance of using her gifts for the highest good. Marriage and a career in the paralegal field occupied her until her early 30's. Accurate, compassionate and direct, her focus now is entirely on enlightening, uplifting, inspiring and guiding those who seek her counsel. Gail believes that it is as critical to understand the energy of the people we choose to be involved with. Regardless of the nature of the issue, whether it be romance, career, business, or family, the essential needs of every client always come through clearly in her readings. She is able to hone in very quickly on major concerns and deliver accurate messages and solutions to problems. Get a reading right now with her at PsychicAccess.com


One Response to Is Your History Repeating Itself?