Love Is The Energy That Connects Souls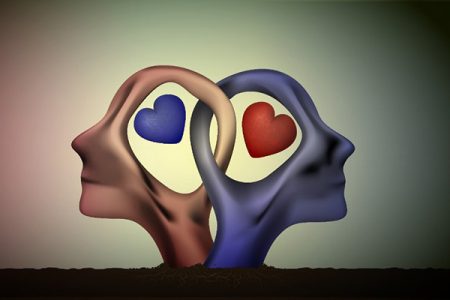 There is one great metaphysical force or energy that connects us all. This greatest force is love. Love is the only energy that can truly overcome all and heal all. It connects us to each other – even those that we cannot be with.
Have you ever experienced the phone ringing and you just knew who it was on the other end before you even picked up? Then, once you had said hello, you think to yourself, "How did I know it was her calling?" You even get goose bumps once your intuition is confirmed. It's a neat feeling, isn't it?
Well, it's also like that when out of the blue we think of someone for no reason. It's usually because that person is also thinking of us. We are all connected.
We have naturally have what it takes to make these connections happen. One of the ingredients that it takes to be 'dialed in' like that is balance. We need to have balance in our lives. If we are disconnected and out of alignment in our lives we are not tuned in very well to these energetic connections we have with others. This is especially true when we indulge in some form of substance abuse, like smoking, alcohol or drugs. These things can really mess with the mind, body and soul.
You need to be healthy and you need to meditate or pray on a regular basis to help you stay on the vibrational frequency that you need to be to receive intuitive impressions, thoughts and feelings from those you love.
It is very difficult to be able to hear someone or feel someone, and love them so much and want to be with them so much, and not be able to. Know that if you are feeling these things from those you love you are very much connected. Remember, sometimes we have to wait to be with that person physically, because it's all in divine timing – not our own timing.
A soul connection not only inspires us to expand, but also forces us to confront whatever stands in the way of that expansion ~ John Welwood
Things happen when they are supposed to and sometimes it requires patience and faith. Those are the two seeds or ingredients that it takes to make two people come together who need to be together.
The waiting could be what our soul needs for soul growth and we just have to wait it out. Sometimes the soul of the one we love needs to evolve a bit more, before he or she can come to us and be on the same page that we are, so that we can have the kind of relationship that would make us truly happy and fulfilled.
Just because you can't be with the one you love, does not mean that you are not connected. Your love for the person and their love for you keeps you eternally connected – forever and always. What a blessing that is! I think some of us just need to have more faith in that love and not doubt it so much.
I can see right away if two people are soul-connected. It is such a beautiful thing to confirm for those that just need to a little more faith, or who struggle to trust their own intuitive feelings. Sometimes it's just really neat to have them confirmed.

About The Author: Moon Goddess

Moon Goddess is a third generation empathic healer and seer. She started to give healing readings to people more than 20 years ago. She has always been interested and studied all things metaphysical from a young age. Being hypersensitive she can feel and see things before they happen. Utilizing the Tarot, and with the help of her Guides, she is a source of support for many people all over the world. After he passed over, her grandfather kept his promise and came back to say goodbye and gave her the most amazing experience. Moon knows there truly is a Heaven, and it is wonderful! Sharing her experience has helped many people after they have lost someone, or anyone experiencing some form of grief. Get a reading with Moon Goddess now at PsychicAccess.com.