How To Become More Psychic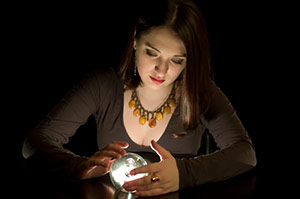 So many of people wish they possessed psychic abilities. The truth is, we all do! Like any other talent, it just takes some practice to develop these gifts. You can practice being psychic the way you might practice playing a musical instrument. There are plenty of ways to do this.
The most important first step is to take proper care of your body and mind. As the saying goes, "garbage in" produces "garbage out". Take time every day to meditate. Eat nutritious foods and drink plenty of clean water. Try to avoid toxins like nicotine. Get plenty of sleep each night and stick to a schedule. And perhaps most importantly: exercise regularly. When we exercise, the body releases chemicals that help us think more clearly and, by extension, have greater insights.
Intuition is really a sudden immersion of the soul into the universal current of life ~ Paulo Coelho
If you don't already do so, take up the daily practice of meditation. This helps to channel our thoughts and energies. It can be as simple as clearing our minds of excess thoughts, or using a repeated mantra. Some people also find focusing on an object, such as a candle or crystal, to be helpful.
Begin to pay close attention to the world around you. Increase your psychic awareness. Many spiritual guides surround us every day and, in our busy world, we seldom notice them. Colors, weather patterns, animals, or other natural messengers may bring important news or insights.
If you don't already have one, try to connect with your spirit guide or identify your totem animal. There are several good books on this subject, including Animal Speak by Ted Andrews.
When I stand before God at the end of my life, I would hope that I would not have a single bit of talent left, and could say, 'I used everything you gave me ~ Erma Bombeck
Some people also find keeping a journal helpful in developing their psychic abilities. You don't have to be a great writer; this is about getting your spontaneous intuitive thoughts on paper. What you write down may ultimately surprise you!
Most of all: don't become discouraged. None of us are born having all the answers. Take the time to develop your unique gifts and you may discover you're more psychic than you thought. Keep an open mind and an open heart. Remember that the universe is always sending us messages; we just have to listen and learn.

About The Author: Mystic Shelley

Mystic Shelley is a Psychic Medium. She has been reading for over 15 years helping and guiding people. She uses my 8 spirit Guides during her readings. She reads in the area of love, relationships, career, money and all matters of love. She will give you only honest and direct answers. Get a reading with Mystic Shelley now at PsychicAccess.com


Posted in

Crystals & Stones, Intuition, Life Design, Lifestyle, Meditation, Psychic, Self-Help, Spirit Guides
|
Tagged

animal medicine, awareness, become psychic, candles, consciousness, Crystals & Stones, diet, energy, exercise, fitness, food, gifted, health, holistic health, inner guidance, Intuition, intuitive, mantra, Meditation, Psychic, psychic abilities, psychic attunement, psychic awareness, psychic development, Spirit Guides, spiritual messages, talent, thoughts, totem, Universe, water
One Response to How To Become More Psychic
<!div id="networkedblogs_nwidget_logo" style="padding:1px;margin:0px;background-color:#edeff4;text-align:center;height:21px;"><!a href="http://www.networkedblogs.com/" target="_blank" title="NetworkedBlogs"><!img style="border: none;" src="http://static.networkedblogs.com/static/images/logo_small.png" title="NetworkedBlogs"/><!/a><!/div>