Live By The Clock, Die By The Clock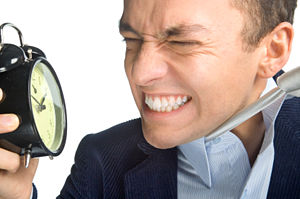 In today's stressful and high-paced world we often have no choice but to keep a constant eye on the clock. It can be very stressful always having to be on the go, and too often there is no time to relax and really enjoy the moment.
At restaurants in business districts you often see people not able to really enjoy their meals, because they are only allowed a certain amount of time for a quick lunch break. So, they are swallowing, while they are taking the next bite, not even allowing themselves to digest and enjoy their food properly.
We have clearly lost sight of the things that really matter in life. We have become slaves to the clock. Sometimes we hardly notice or appreciate our friends and family. We are in such a hurry to get to the next destination that we often rush by, or leave abruptly. How often do we give a meaningful hug to those we love? We see more value in getting somewhere fast or getting something else done.
Time is the coin of your life.  It is the only coin you have, and only you can determine how it will be spent.  Be careful lest you let other people spend it for you ~ Carl Sandburg
Do you remember the last time you gave your mom, or your best friend, a really good 'squeeze'? Seriously! I mean a real, unrushed, sincere and meaningful hug? Have you ever received a hug like that? Do you how it feels to get a real hug? It's quite healing, affirming and refreshing. What is that feeling? It's love! And that is the real meaning of life, to give and receive unconditional love.
With the latest Internet and cell phone technology, and some people's obsession with texting and 'social networking', many of us aren't able to connect in a personal, warm way anymore. Some of us are not even able to have a meaningful conversation, from what I have witnessed in recent years. Since texting came onto the scene you see people everywhere with their heads bowed. If only they were busy praying! No, they are texting; while there lunch partner is doing the same!
Sometimes I feel that life is passing me by, not slowly either, but with ropes of steam and spark-spattered wheels and a hoarse roar of power or terror.  It's passing, yet I'm the one who's doing all the moving  ~ Martin Amis
I feel that people are too consumed with everything superficial, while really connecting with the people in their life has to take a backseat. Before they realize, the moment to share and show caring exchanges may not be available to them anymore, as time doesn't stop for anyone. We, however, can stop and take the time to recognize that life is more than living by the clock each and every hour. We can make the choice to stop. Recognize, re-evaluate and rearrange our lives, so that we can go about it in a way that is more in line with our true soul's purpose.
I am reminded of the children's song:"row, row, row your boat, gently down the stream… merrily, merrily, merilly because life is but a dream!" If we don't slow down, that dream may be over before we get a chance to really thoroughly enjoy it.
About The Author: Moon Goddess

Moon Goddess is a third generation empathic healer and seer. She started to give healing readings to people more than 20 years ago. She has always been interested and studied all things metaphysical from a young age. Being hypersensitive she can feel and see things before they happen. Utilizing the Tarot, and with the help of her Guides, she is a source of support for many people all over the world. After he passed over, her grandfather kept his promise and came back to say goodbye and gave her the most amazing experience. Moon knows there truly is a Heaven, and it is wonderful! Sharing her experience has helped many people after they have lost someone, or anyone experiencing some form of grief. Get a reading with Moon Goddess now at PsychicAccess.com.