Honor Your Goals And Dreams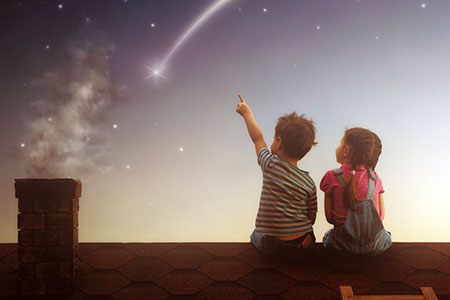 Sometimes the goals and dreams we aspire to remain dormant, because it may seem daunting, challenging, or even impossible. But these ambitions deserve their rightful place in our lives. There is certainly no shame in dreaming big, but there is potentially much disappointment in giving up on one's goals and dreams too easily.
Several modern technologies, such as motion pictures, sound recording, alkaline batteries, the telephone and the electric light bulb, that we take for granted today were once deemed impossible, until Thomas Edison defied all odds and made scientific research the focus of his life.
At just 12 years old, Edison lost hearing in one ear and was nearly deaf in the other ear, but instead of feeling defeated he used this traumatic loss to increase instead his ability to focus. From a tragedy emerged an uncanny gift for unrelenting concentration for hours at a time without distraction.
Edison subsequently honored his dreams and transformed our world with many great inventions that have impacted out lives exponentially. His industrial research lab was established in 1876 and was one of the first laboratories that welcomed teams of scientists and inventors to participate in the process of invention.
The world as we know it today would not exist without the many contributions of Edison and his teams of fellow scientists and researchers. These individuals were true mavericks who honored their goals and dreams. Their unyielding focus drove them to uncover many scientific complexities. By honoring their vision, they harnessed the power of nature to bring light to the world, and so much more.
If you want to be happy, set a goal that commands your thoughts, liberates your energy and inspires your hopes ~ Andrew Carnegie
The true keeper of a dream protects and guards what is important and will do all in their power to nurture their hopes to life. We have seen this story play out again and again in so many profound ways throughout human history. Just recently, we have witnessed once again the milestones of Olympic athletes who had overcome many personal hurdles to achieve gold medals.
Is your path to your personal 'gold medal' stalled by a particular limiting belief or perceived obstacle in your life? While the hurdle may appear insurmountable, you do have the necessary spiritual and metaphysical capacities within to adjust your self-limiting outlook and unleash your true inner power. Remember; there are always multiple paths that can lead to a personal victory. When one door closes, another always opens.
Our goals can only be reached through a vehicle of a plan, in which we must fervently believe, and upon which we must vigorously act. There is no other route to success ~ Pablo Picasso
I encourage you to reflect on your most pivotal dreams and goals. What steps are you taking today to protect your dreams and honor your goals? Are you honoring the blessings that you are hoping to manifest? Remember, the vision is only given to those who can see it and believe it. If a particular path is not meant for you, it will not be shown to you in the first place.
Take personal responsibility and ownership of your success by finding your purpose, creating a plan, and honoring your dreams and goals, just as Thomas Edison did over a century ago! You too have the metaphysical power and spiritual tools to bring much light to the world.

About The Author: Shawna

Shawna lives in the American Southwest and is a third generation Spiritualist and Clairvoyant. She recognized her own gifts at a young age, fully embracing her calling as a Clairvoyant, Medium, Spiritual Astrologer, Tarot Reader, Aura Reader, Water Reader, and Healer, training under the tutelage of some truly gifted mentors. Shawna utilizes her natural psychic gifts to help individuals navigate through personal challenges and discover the higher manifestations of their life paths. She's provided positive, spiritually responsible, and ethical readings in-person, over the phone, and online, and has read for clients in Los Angeles--at psychic fairs--and at the Crystal Gaze Spiritual Center, in Lakeland, FL. She is also a trained practitioner in Clinical Herbalism (University of New Mexico), Ayurveda Medicine (San Diego College of Ayurveda), and Reiki. Shawna has channeled messages for political leaders, celebrities, and has accurately predicted the outcome of national campaigns, as well as a big career opportunity for a talented actor that resulted in a Tony Award! If you'd like an enlightening and empowering, full-spectrum of guidance, you can find Shawna at PsychicAccess.com.