We Are Here To Witness The World Change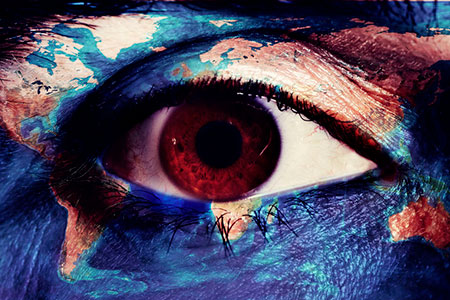 We have all had to make extreme changes and compromises in the way we were accustomed to living this past year. While I enjoy traveling, another person may enjoy attending larger gatherings and events, while someone else might love dining out. Whatever it is that we used to love doing, most of us had to make major concessions and sacrifices and give it all up.
Now our world is slowly, but surely, beginning to recover. We have all been eagerly watching medical science progress and research findings unfold, while we are gradually finding our way back to some sort of normalcy.
Many of us will, however, continue to take extra health and safety precautions. Participating in social events and public gatherings will be something not everyone will feel entirely comfortable with anytime soon. It will be 'baby steps' as we increasingly return to everyday life.
It has indeed been an unusual time in our lives. Many of us have changed our outlook on life, our way of thinking, our priorities. And our world has seen some significant changes. It has been a challenging, transformative time. I believe we are here to witness one of the biggest shifts or changes in world history. We are literally a part of history in the making.
There are great changes happening on the fourth and higher-level dimensions with regards a 'grander plan' for this earth dimension. The world of spirit continually impacts the earth plane in profound ways. Alchemists and metaphysicians have always believed 'what happens above, also happens below.'
In other words, things are currently changing or shifting in the spirit realm, so life on earth is changing along with it. The trauma, upheaval and chaos we have been experiencing in recent times is therefore fueled or driven by a Universal change in the Cosmos.
We are sentient beings who come to the earth plan to evolve and expand. We evolve more quickly and powerfully while we are incarnated in a physical body. Our body is our vehicle here on the earth plane and we must always take good care of it.
Everything in our world is sacred and interconnected – and we're in the midst of an epochal shift to recognizing that truth in every realm of human endeavor. It's a magnificent time to be alive and participate in this evolutionary leap ~ Stephen Dinan
We have all had to come together, worldwide, to take better care of ourselves and each other. The pandemic has forever changed our generation and the way we view our mundane, everyday needs. But we are not just meant to take on healthier lifestyle habits; we are also meant to take on healthier spiritual habits in this time of extreme change.
We are meant to be learning what is most important here. We must recognize how selfish and small-minded some of our thoughts and human obsessions used to be. The many challenges of the past year were meant to raise our awareness, teach us to listen to our inner voice, and to open our hearts to hear the voice of spirit.
Compassion and personal growth are meant to take the forefront now, as we begin to live more fully and discover our true purpose. We are living through one of the most significant periods in the history of this planet.
We must reconnect in these times with the heartbeat of Gaia, our Earth Mother, and the wisdom and power of the Great One that lives inside us all. Nobody truly knows where it all is going, and what things will be like once we get there. But there's no looking back now.

About The Author: Isadora

Known as The Psychic's Psychic, since 1998, Isadora has read for thousands all over the world, her impressive list including clients from the Obama administration, Fortune 500 CEO's and notable names in Hollywood. Her detailed (Gemini) accuracy is nothing short of astounding, with her ability to see people at the Soul Level and clearly answer questions on a wide range of subjects, from relationship matters, business decisions, to past lives, etc.—anything that requires clear answers and pin-point insight. She has the ability to identify hidden patterns that run beneath your current situation, providing you with information to positively change your future. If you'd like a reading with this compassionate, straight forward, laser-accurate and dedicated Psychic, you can find Isadora at PsychicAccess.com.