Paw Prints All Over My Heart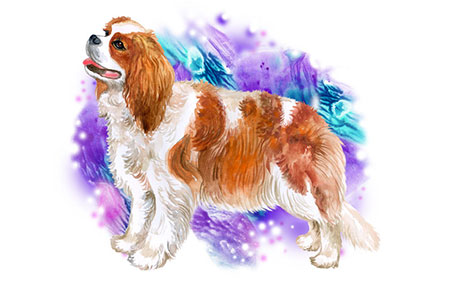 The agony of losing a dog is immeasurable. I lost my beloved Oliver, a King Charles Cavalier, several months ago and I'm still crying every day. But I have found some consolation in his afterlife signs and visits from the other side.
He was 11 years old and in perfect health, or so I thought. He'd had a full checkup three months prior and he had the test results of a very young dog! I also used to take him on long walks every day, his head held high, his tail wagging happily, a prancing skip in his step.
He was such a loving, happy dog. He stopped for every human, always begging for their attention and a pat on the head. Everyone knew him and loved him in the neighborhood.
He followed me around everywhere, lay under the table as I worked, always got up to join me for Yoga, and I left a spot for him behind my pillow every night at bedtime. I took him everywhere with me.
My 90-year-old mom lives across the street and that was his second home. He loved it there. One day, I was out running errands and he got loose. He then came knocking on my mom's door looking for me there. She was always happy to see him and invited him in.
One day he simply stopped eating. He refused his favorite dog treats, would not even sniff peanut butter. Then he stopped drinking water. We immediately took him to the vet for tests. Not long after, the kind doctor phoned. My heart sank. "His organs are already shutting down, there's nothing we can do for him," he said.
We rushed back to the vet, praying he would hang on long enough so we could say our goodbyes. He did hang on for us. My husband, daughter and I were all together when we first picked him up as a puppy and now we were together to see him off. They didn't even need to sedate him; he was already leaving his body and was calm as can be.
Just before they gave him the final injection, he suddenly turned his head and focused. I thought his loving gaze was on all of us, but my daughter insists he was only looking at me. There was no question he loved us all, but I did have an incredibly special connection with Oliver.
The dog is a gentleman; I hope to go to his heaven not man's ~ Mark Twain
I've loved and lost many dogs in my lifetime, and it's always been heartbreaking, but I've never experienced such a connection as this one before. I loved this dog like no other, in such a powerful, indescribable way. I can honestly say I enjoyed every moment he was on earth with me, never once taking him for granted.
After his departure we were desperate for a sign from Oliver that he was still with us. We did not have long to wait. The same day we lost him, there was a loud, inexplicable bang on our back door. Just a few days later, my husband opened the refrigerator and heard him barreling down the stairs.
All of us have also experienced powerful, vivid dreams of him. In my dream, he came to my room and licked my hand. In my husband's dream, he jumped on his chest and he pet him for a long time, while in my daughter's dream he visited her as a younger dog.
And then came the most incredible best visitation of all! This time it was not a dream, or just a noise, or all the people named Oliver on TV shows that continually still pop up. This time it was way bigger!
Before you get a dog, you can't quite imagine what living with one might be like; afterward, you can't imagine living any other way ~ Caroline Knapp
My mom called early in the morning. "Come over and take a picture. Oliver left his calling card!" she announced. I ran right over to take a picture I will treasure forever. Oliver had left his small paw prints all over my mom's kitchen floor, as well as some in the hallway. And he did it two days in a row!
No one else had been in her home. The paw prints looked exactly like the prints he used to leave in her kitchen after a every visit. She instantly recognized them.
Just like our departed loved ones and relatives, our pets also connect with us from the other side. If you have also lost a beloved pet, always be aware and keep an open mind. They communicate from the afterlife in many ingenious and unexpected ways.
My birthday is coming up, but I already received the best gift I could possibly get: definitive proof that my dog is still with our family and always will be.

About The Author: Tracey

For 11 years, Tracey's predictive practice has taken her down the rabbit hole, where she's amped up her intuitive gifts by mastering new tools that are accurate and cutting edge. She began with Tarot, Numerology, Soul Path Energy Clearing and Natal Astrology, reading for her one-on-one clients in her private practice, at fairs and festivals, and at private parties. Her newest technique, Horary, is popping up on new apps and on social media. Horary is a predictive and magical form of astrology like a psychic reading, with a chart cast for the moment and quickly read by a highly trained practitioner in the art. Tracey currently lives in South Florida, but she maintains a busy practice with clients situated mostly in Los Angeles, NYC, Chicago, Atlanta, and Palm Beach. Past clients she has worked with include a well-known Disney actress, a comic book icon, an Emmy nominee, a luxury hotel entrepreneur, and the founder of Ben and Jerry's ice cream. Tracey was asked to be part of a panel for an exciting new YouTube series sponsored by the prestigious Wessex Astrologer. She is also a successful sci-fi and fantasy author with a new book recently released to rave reviews. You'll have a magical trip when you hop aboard Tracey's exciting Horary bullet train leaving the station at PsychicAccess.com.


This site uses Akismet to reduce spam. Learn how your comment data is processed.