Making The Most Of Today's New Moon In Pisces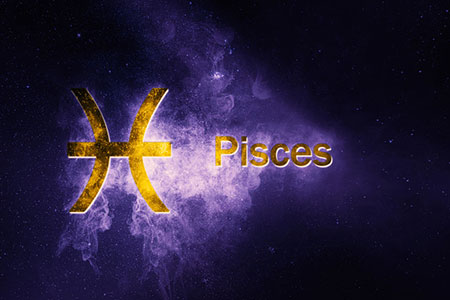 The New Moon in Pisces today offers us the chance to get in touch with out creative side and enhance our intuitive gifts.
Pisces is the zodiac sign of fluidity, inspiration, sensitivity, perception, softness, and going within. This cycle gives us the opportunity to connect with spirit and trust in the mysteries of life, without over analyzing every detail.
Going with the flow and patience is the key to thriving during this month's New Moon. Since Pisces ends the zodiac wheel, it is a wonderful transit to release and tie up any loose ends, before the Aries New Moon next month.
Pisces is a water sign. So, staying hydrated, getting in touch with our deeper emotions and beautifying our physical bodies will create lovely results moving forward.
The shadow side of Pisces involves being too passive, self-defeating, over-indulgent, having a victim mentality, lacking focus, addictive behavior and holding onto unhealthy situations or people who are toxic.
Pisces often times has dualistic tendencies in extreme, which means that it will be vital to question anything that is out of balance and correct it. These changes don't necessarily have to happen overnight, but acknowledging them now will allow you to heal whatever is holding you back from living your best life.
Pisces is the last sign of the zodiac, and with its arrival, we can count on many things to come to their final conclusion – sometimes even if we don't want them to ~ Jennifer Racioppi
The best way to thrive with today's New Moon is to move towards things that raise your vibration in a positive manner and step away from anything that no longer brings you joy or peace.
Some keywords and objects to focus on for this Pisces cycle are: light, calm, yoga, water, flexibility, art, meditation, tea time, cleaning, psychic abilities, positive affirmations, flowing, feng shui, glitter, crystals, compassion, prayer, affection, fantasy, faith, romantic gestures, honesty, and the color sea green.

About The Author: Laura

Attracting people from all walks of life, Laura has always been the type others come to for advice and direction. An initiated shaman, she's helped others to transcend fear and resolve dark aspects to achieve greatness in life and overcome limitations from the past.Spiritually, she's a mixed bag of traditional meets mystical, blending the best parts of Christian, Jewish and Muslim faiths with intuition and magic. She's been referred to as a witch, but considers herself a shaman. She uses her psychic gifts and divination tools to help you see the truth, awaken your spirit and overcome any problem. Contact Laura for a psychic reading at PsychicAccess.com