When We Fear The Turning Of The Tide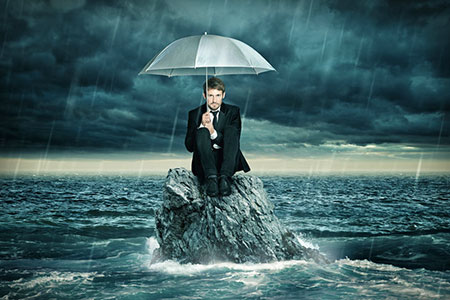 At this time in our world each person must examine their own thoughts and feelings on important issues. You might ask, "What does it matter what I think or feel? I am only one person nobody cares about my opinion!" Well, if everyone felt their voice did not matter, we would never create any change in our world.
It can be very difficult to find your own voice sometimes. To find your voice is to go within and discover your own truth. Each of us have a unique view of the world we live in.
It can be very challenging to speak your mind, especially is a group situation where others think differently. We often remain silent, because we fear rejection if we should stand alone in our beliefs and opinions.
The opinions of others can make us question our own judgment and shake our confidence. We become self-critical. Feelings of fear arise in us. We doubt our ability to express ourselves in a way that others will respect and understand.
The opposite is true also. When things are going along just fine in our personal world, it is often hard to realize and understand that not all people think and feel they way we do. People tend to associate for the most part with others that think and feel the same way.
It is easy to get comfortable in our own world, and avoid what is going on around us. But some point we will have no choice but to pull our head out of the sand. Even if we don't realize it, the energy of a changing tide does affect all of us.
Nothing in life is to be feared, it is only to be understood. Now is the time to understand more so that we may fear less ~ Marie Curie
How do we learn to tolerate diversity and coexist with people who don't look, think or feel alike? How do we learn to share this beautiful planet accepting and helping each other? It will only be accomplished if everyone could look at the larger perspective. If indeed 'thoughts are things,' it is so important to look at all sides of a situation.
Yes, it is tricky when there is so much fear around us, due to prejudice, ignorance and misinformation, especially on social media. But I believe the truth always rises to the surfaces, given time. Meanwhile, go within and feel what your own truth is. Ask spirit for guidance and trust your gut.
I have asked the spirit world why the human race does not seem to learn from the past. Why do we keep repeating the same old scenarios that don't work? I was surprised at the answer I received. Spirit says, "Each time the human race repeats the same action, for good or evil, there is always some change. Human nature is about survival, and humans want power and control over others. It is their defense against fear and uncertainty. Therefore humans fear those that are not like them, even before they get to know each other. Humans fear that others will take what they perceive to be theirs."
How do we learn to handle this fear in a positive manner? When we lose our limited perspective and our irrational fear of things that may never happen. If you feed the fear, it becomes bigger with even more thoughts and feelings of doom and gloom. Starve the fear instead, and begin to feed your mind positive thoughts and affirmations, even if you don't feel it.
People learn to hate, and if they can learn to hate, they can be taught to love, for love comes more naturally to the human heart than its opposite ~ Nelson Mandela
The subconscious mind is like a child. It will grow and expand with whatever thoughts you feed it. Some ways to feed your mind good thoughts include meditation and prayer, reading positive books and blogs, listening to inspirational music, and spending time in nature call.
Why are some people afraid to teach others what they know? It goes back to fear. The student may become better than the teacher at what is being taught. Instead, why not feel proud that you are a good teacher, if the student exceeds their own expectations. You can teach any old dog new tricks if the old dog is willing to learn. A young dog can learn from the old dog with experience if they accept experience has value.
The only thing that remains the same is change. This gives me hope for the future. We must let go of the fear of respecting and supporting each other. If we empower each other, we all rise.

About The Author: Elizabeth

Elizabeth's talents go back several generations. She found her own gifts and embraced them at an early age, recognizing the difference between herself and most others around her. She's since honed and mastered many metaphysical practices, providing hypnotherapy, Psychic Mediumship, Mysticism, and Hypno-Reiki to her clients in Maine, and in areas around the US and in Canada, where she travels. A lover of pets, they are her greatest teachers and these unconditionally loving creatures often chime in on a reading in addition to the Angels, Guides and loved ones who provide resolution and answers for each of her clients. Elizabeth is also an author with much spiritual wisdom to impart and is currently working on a book. If you'd like to be a recipient of her unique Psychic Wisdom, find peace and receive answers that will also benefit your highest good, you can reach Elizabeth at Psychic Access.