The Lightworker's Mission – New Assignments In New Places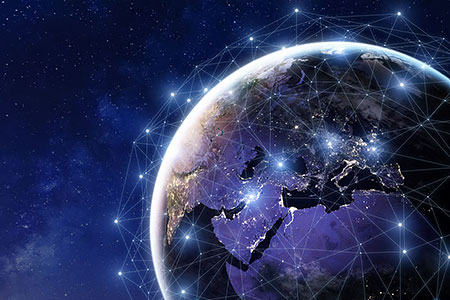 With so many people currently working from home, the business world as we know it will be changing exponentially. More and more companies are recognizing the benefits of having their employees work remotely, for numerous reasons. This scenario may very likely create a greater change on a grander level – a shifting of consciousness from one city to the next, and from country to country.
What do I mean by shifting of consciousness? Well, someone residing in New York City, for example, who has to live there for work, may in future have the ability to work remotely from anywhere in the world, using the Internet, and they may therefore choose to relocate. Smaller towns and cities could potentially see a welcome increase in its population, after decades of urbanization and economic decline.
Many professionals may in future choose to live in smaller towns, because the pace of life is calmer, the air and environment is cleaner, or because it's a safer place to raise children. Smaller towns and rural communities offer various desirable lifestyle qualities.
Furthermore, city dwellers moving to smaller towns will bring with them the energetics of the metropolis. They will attract new products and services based on demand, or may choose to open a business of their own that didn't exist in the area before, which in turn will draw more city-minded people to the area.  Their everyday wants and desires may shift somewhat when living in this smaller town, but they will also bring with them the mindset of big city life. The same holds true for remote workers migrating to other states, countries and even continents.
The only way to make sense out of change is to plunge into it, move with it, and join the dance ~ Alan Watts
This changing of people from area to area, and land to land, not only changes the energy frequency of the land, but in time shifts the vibration and consciousness of the entire planet. When you move plants, trees, people, or anything from one area to another, it causes things to recalibrate or rebalance on an energetic level.
I have witnessed this firsthand, even before the Covid-19 pandemic. We moved from the Midwest United States to a smaller town on the West Coast many years ago. While I was still getting settled into our new house, I sat in meditation, open to receiving any messages that my spirit guides had for me at the time. My main teacher and guide then came into my awareness to give me an assignment. He asked that I bring the consciousness or vibration from my former town, that was several hours away from us, over into my new town.
I was puzzled, and asked him how I could possibly do this? He explained that he would send me people to help. Lo and behold, within two months, I had met five new friends who then formed a women's spiritual circle with me. We met twice a month on the Full and New Moon, and I taught them everything I knew about reading Tarot cards, working with herbs, meditation, chanting, breathwork, metaphysics and spirituality. We did this for three years. Eventually, I was the subject of a story on the local television news station about my Tarot readings, and I was also featured in the local newspaper for the metaphysical events I organized. Other lightworkers were increasingly doing similar work in the area.
Thus, in the four years since I arrived here, the town has been going through some significant changes, not only drawing in more spiritually aware residents, but also changing the overall pulse and frequency of the town. Exciting new businesses sprang up, the demand for real estate increased, and the cost of living tripled.
Life is a moving, breathing thing. We have to be willing to constantly evolve. Perfection is constant transformation ~ Nia Peeples
Now, many years later, my family and I are looking to move once again. As we search for properties online, it appears so many of the places we considered moving to in the past, have since changed considerably. As we explore and follow our intuition, I know we will be guided to the best next destination. As a lightworker, I trust my beloved spirit guides will gift me with another spiritual assignment. I feel a sense of awe and wonder with this next move and look forward to seeing new faces, and getting acquainted with the energies of the land.
We all have an assignment and higher purpose, and our mission shifts as we move around to different spots on the globe. In recent months, we have once again become acutely aware how our thoughts, choices and actions reverberate and affect everything and everyone around us. Now, more than ever, we need to care for the well-being of our planet and familiarize ourselves with whatever place or area we may be guided to visit, or relocate to.

About The Author: Isadora

Known as The Psychic's Psychic, since 1998, Isadora has read for thousands all over the world, her impressive list including clients from the Obama administration, Fortune 500 CEO's and notable names in Hollywood. Her detailed (Gemini) accuracy is nothing short of astounding, with her ability to see people at the Soul Level and clearly answer questions on a wide range of subjects, from relationship matters, business decisions, to past lives, etc.—anything that requires clear answers and pin-point insight. She has the ability to identify hidden patterns that run beneath your current situation, providing you with information to positively change your future. If you'd like a reading with this compassionate, straight forward, laser-accurate and dedicated Psychic, you can find Isadora at PsychicAccess.com.


This site uses Akismet to reduce spam. Learn how your comment data is processed.