The Spiritual Symbolism Of The Pelican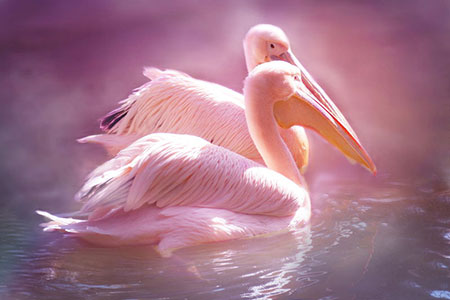 When a bird flies directly onto your path, or you see images or photos of the same bird repeatedly, within a relatively short space of time, this is often a spiritual sign that the energy of this bird is calling or guiding you.
I live on the coast and I am lucky to be able to watch various seabirds, and encounter other birds drawn to the local water ways. The pelican is one bird that has specifically caught my attention. The day I was inspired to paint this amazing bird, he literally strutted down the hallway of my home!
Even to this day, pelican continues to literally soar into my experience whenever I need to draw on his wisdom. Even though they seem large and clumsy, there is something gentle and caring about their nature. If pelican has waddled or soared onto your path, let his wisdom and symbolism guide your way.
I started building my connection with the pelican's energy by observing and sketching the local birds. Through the process I found a sense of awe for the pelican's beauty, which was a shift in my perception, as I had never before considered them to be very attractive birds.
I also noticed they followed a set routine, and similar flight paths, depending on the weather. It inspired me to become more aware of my own patterns and habits. At this time my work schedule had become somewhat unbalanced and dysfunctional, without me being aware of the impact. Pelican taught me that it is vital for my self-care to ensure that I work within a routine and structure that better supports my creative outlets and energy levels.
The elegant pelican soars into our awareness with heavy messages of sacrifice, resurrection and nourishment ~ Avia Venefica
If pelican appears on your path, he may be bringing the following spirit messages and wisdom to you:
Routine And Structure
In order for us to live an abundant and prosperous life, there are habits and rituals that help us to plant the seeds for the harvest of future endeavors.
In our modern world, our ability to earn and provide is a part of the nurturing we give to our families. Our responsibilities are easier to achieve and meet when we have structure that supports our productive flow.
Balanced Self-Care
Since medieval times, the pelican has been associated with self-sacrifice, due to the manner in which it feeds its young from its bill. Our ability to give of ourselves and nurture others is affected by our ability to receive and also take care of ourselves.
To truly give of ourselves we need to be able to do so from a cup that is over-flowing, not half-empty. Otherwise we fatigue and feel resentful in our over giving. Pelican encourages us to ensure we find balance in our give-and-take,  and make some time and space for self-care.
You dream about the pelican spirit animal because you need to change things in your life so that you and your needs come first. It's a reflection of how you need to regain the balance that you have lost ~ Imelda Green
Community And Family
Pelicans travel in flocks and live within a tight-knit colony. They can often be seen fishing with others, as part of a team, and not in a competitive manner, but as a collective, supportive group.
In Christianity, the Pelican is symbolic of rebirth and is associated with Jesus Christ. Pelicans can even be found adorning altar pieces and religious artwork. The imagery often depict the pelican feeding its young, and reminds us of our ability to parent and guide others with our wisdom.
If you are feeling a nudge to reach out and help someone, pelican may show up to reassure you that your assistance is indeed much needed. Reach out and touch someone's life.
Abundance And Prosperity
Pelicans are a mix of gracefulness and clumsiness, and this is part of their special charm. They reflect to us that there will be times when we stumble in the dance between the divine being we are, and our human ego, fears and insecurities. If fears over money or abundance take hold, reflect on the pelican's ability to fish as a reminder of our ability to sustain and connect with our abundant flow.

About The Author: Cheanne

Cheanne's Divine gifts came to her in her early 20's, when this young Australian accountant felt suddenly compelled to take a creative art class. On the blank canvas, she saw a face that moved her greatly, and she painted it. The brush took on a life of its own, as she painted the divine presence of Buddha. We are not alone, she suddenly knew, and that feeling has stayed with her ever since! Messages and healing have come through her art work and from her Intuitive sessions that connect clients with spiritual guidance to navigate through life's changes and challenges. She also helps clients tap into and experience their own unique gifts. Since 2013, Cheanne's helped business owners achieve their creative visions, she's provided clients with portraits of their Angels and Guides, and she's channeled messages at New Age Festivals, Expos, from her local practice room, home studio, via phone and internet, and through the dozens of group workshops and intimate retreats she's provided. Her unconditional, loving support has touched thousands, and acts as a bridge to connect clients with a powerful, Divine Guidance. You can find this unique and wonderfully talented Intuitive at PsychicAccess.com.