Sheltering In Gentle Grace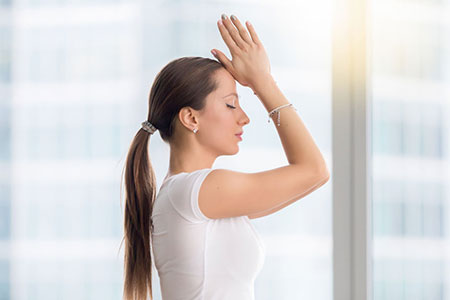 The subject and substance of grace is near and dear to my heart. Its consistency is gentle and ethereal, but nonetheless a source of grounded strength. I appreciate it as a richly layered, soft, spiritually textured energy, flowing between Heaven and Earth – divine in its origin from God, yet accessible in unlimited ways within, and around us.
A few years ago, I wrote a book on grace, moving in divine alignment. The words channeled through me, as if being dictated by Grace herself, a feminine goddess personifying the compassionate energy emanating from God as the Supreme Source. Therein, the quality of grace on the hard paths of life revealed itself to me as follows.
When the dance stands still in the dark – outside my comfort zone, in the space of the unknown, in the history of pain, before the next step – I tend to feel neither peaceful, patient, nor poised.
I have grabbed for answers, change, relief, but found none independently within my clutch. So, I envision a fabric of grace, formed when the favor of God becomes interwoven with the sweetness of elegant movement and presence.
Unlike ordinary cloth, the fabric of grace dons a mystical twist. It is a lifeline of being, bearing inexhaustible strength to uplift and pull us forward through all experiences.
There is an artistry of the soul in reaching for this spiritual material of grace. It calls forth inner enlightenment and skill to clasp it in the heart, not in the hands.
The grace of the spirit comes only from heaven, and lights up the whole bodily presence ~ Charles Haddon Spurgeon
Grasping the fabric of grace is the same as letting go and trusting it is the one wrapping around and holding. When the heart is embracing grace, there are no clenched fists. The urge to tightly grip is released. The hands are gentle, cradling unlimited space for them to become full of gifts.
Reading this again now, I see there is a heightened spiritual need for the shelter of grace and gentleness amidst change, uncertainty, and crisis. One readily accessible way to receive it is through simple sincere prayer.
Please grant me the grace to receive the gentle strength of grace. Grant me the grace to release my anxiety and need to know. Kindly grant me the grace to move through this with ease.
Whatever quality of heart and confidence you feel needed, grace will generously reciprocate upon sincere humble request.
Being gentle with oneself also invites grace to flow freely inward. That gentleness can be experienced in allowing yourself to rest, receive, and feel honest feelings. It harmonizes with the natural rhythm and tempo with which energy ebbs, flows, and pulsates.
Grace comes into the soul, as the morning sun into the world; first a dawning, then a light; and at last the sun in his full and excellent brightness ~ Thomas Adams
A gentle way to embody grace can be felt in meditative movement of the hands. I invite you to begin with clenched fists, aware of anything you may be holding on to – fear, anxiety, anger, grief, outcome. Close your eyes and breathe as you allow yourself to feel how you grasp it. Then, with each inhale and exhale, slowly release your grip – letting go and letting God – until your hands are soft, with fingers loose and palms upward.
Allow yourself to be there, experiencing the softness in your heart and hands as you pray to offer what is in them and receive the free-flowing grace pouring to them and through them. This is one of many ways to shelter in gentleness.

About The Author: Lotus Grace

Grace is the epitome of her name, having endured a troubling childhood that paved the way for an adult, gentle, energetic grace that she now delivers to others through the gifts of movement, dance, and through her many intuitive gifts that she shares with her clients. For 30 years, this Hudson Valley, NY State resident has cultivated a unique way of helping others, drawing upon God as her best friend, advisor, and the all-encompassing force that is the bedrock of her faith. Her journey has led her to heal and grow through the mud of life and compassionately support others to do the same. She's immersed in the world's diverse faiths with a core that is deeply rooted in more than three decades of immersion in the spiritual practices and wisdom of devotional lineages. Her inner relationship with God/Spirit has deepened the intuitive sights, sounds, scents, and senses that unfold profoundly when she dances. Since 2004, Grace has run a spiritual healing arts and dance sanctuary, where she intuitively nurtures children, teens, and adults. In her client readings, she taps into her Empathic, Clairvoyant, Clairaudient, Intuitive healing to help clients access the divine guidance they need. If you're searching for a little added Grace, spiritual energy, and the answers you need, you can find Grace at PsychicAccess.com.