Let Your Authentic Self Sparkle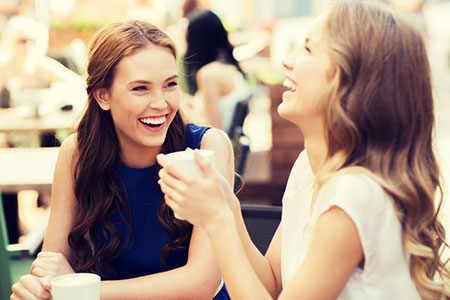 Too many relationships are ruined by worrying about what other people think of us. We worry about what people will say, what people will think. I've seen many people disconnected from their loved ones in this way, with their only means of continued communication being social, or texting. They're so afraid of expressing the things they should say, and so on.
If we could just remove our hardened shell and reveal who we really are, and allow our souls to sparkle, be authentic and keep it real with one another, I think we would connect perfectly.
In today's world we are so brainwashed to think we have to be something we are not. I see so many people communicating, but putting on airs, acting like they are someone they are not, to try and impress, or to sell an idea, or sell themselves as someone else. It can take a toll on the body, mind, spirit. If only we could allow ourselves to show the world who we truly are, and to speak our truth, and sincerely connect with our loved ones, family members, friends, we would all have happier, richer lives.
Sometimes we stop being who we truly are, because the person we communicate with snaps at us, or has a problem with our opinions or how we view the world. When we share our thoughts and opinions freely, these people make us feel like we can't be who we truly are around them.
Some people are living the illusions of others, instead of living the truth of themselves ~ Jackov Kanani
I see this a lot on social media. Many family members are separated from each other. I find this to be truly sad, because I value everyone's opinions… even of me. Whether I find them to be true or false, they are other people's opinions and they are very much entitled to their opinions. If we could only remove the ego and allow people to have their opinions, differences and ideas. When we're strong in our own sense of self, we can respect the opinion of others without feeling threatened or intimidated.
So, if you do find that you're having to go against the grain with somebody, try saying, "I value your opinion." And if you feel like you're being attacked, just remember how many relationship are ruined by worrying about what other people think of you.
Removing the ego helps us to see things clearly and arrive at a better decision on how to proceed in the connection with the person that you are having whatever issue with. If two people can come together and value each other's opinions and ideas, and still show respect for one another, it becomes a much richer relationship – one in which spiritual growth and soul evolution can take place. That is a beautiful and very rare thing these days.

About The Author: Moon Goddess

Moon Goddess is a third generation empathic healer and seer. She started to give healing readings to people more than 20 years ago. She has always been interested and studied all things metaphysical from a young age. Being hypersensitive she can feel and see things before they happen. Utilizing the Tarot, and with the help of her Guides, she is a source of support for many people all over the world. After he passed over, her grandfather kept his promise and came back to say goodbye and gave her the most amazing experience. Moon knows there truly is a Heaven, and it is wonderful! Sharing her experience has helped many people after they have lost someone, or anyone experiencing some form of grief. Get a reading with Moon Goddess now at PsychicAccess.com.