My Daughter's New Life Beyond This One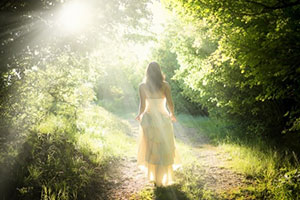 Recently our 48 year old daughter passed away*. Those of you who have experienced the death of a child will understand the depth of the grief and sorrow that parents are left with. All we can hope for now is that the sense of loss will eventually not be so deep and profound.
The physical cause of her death was the effects of her cancer treatments, however, the soul cause of her passing was because she could no longer sustain any kind of happiness in this existence.
Kathy was beautiful, highly intelligent and possessed a remarkable sharp wit. Yet, from a very young age she also appeared aloof and reserved. Curiously, she was often judged,  and sometimes quite harshly, because of this particular quirk. Why anyone would choose to be offended by this trait is still a mystery to me. Those like her, with an extremely sensitive soul, will inherently create an environment for themselves simply to protect that fragile being from harm.  This attitude should be embraced and rewarded, instead of judged and ridiculed.
In sorrow we must go, but not in despair. Behold! we are not bound for ever to the circles of the world, and beyond them is more than memory ~ J.R.R. Tolkien
We would never want to give the impression that we thought our daughter was a saint, or a perfect person. She came here in human form and took on human traits, and had faults very much like the next person. There was also an exceptionally kind and caring side to her.
Obviously, there are many kind and decent males on this plane, however, even since the early days when Kathy first started dating, she always gravitated to the most needy, selfish and often abusive men for reasons that were pertinent only to her.
Each man she allowed into her life she cared for deeply. She looked after all their needs – physically, emotionally, spiritually and quite frequently financially. Too often she would sacrifice her own needs to make sure theirs were met. We often wondered why these men did not make any attempt to give back, even in some small measure, some of what she gave to them? She was a highly metaphysical person and we had many conversations trying to understand the creation of this particular manifestation in her life, but could never arrive at the root cause of the enigma.
Eventually Kathy was diagnosed with breast cancer, which I believe is directly related to anger issues with men. If her current boyfriend would have been more kind and caring towards her when she needed him the most, her outcome might have been different. But that is something we will never know. She would start to recover… he would treat her with indifference and coldness… and the cancer would just continue to progress.
We understood her reasons for no longer wanting to participate in this pain. Although we can even now barely tolerate the idea that  we will never have access to her  again  we could accept her choosing to leave this world.
Death is only a level crossing from one life to another, from life in its beginnings to life in full achievements. From this incomplete life to that transformed one ~ Raoul Plus
We had less than a day to prepare for her leaving and were privileged to be able to remain with her until those final moments. I was not able to contain the pain I felt and could not release her, and I am unashamed to share now that I was still begging her to stay. On the sage advice of my sister, I finally let her know it was okay to go. At that very second I saw her immediately on the other side. She was in a green field which in the world we lived in was always connected to healing and she was carrying a blanket that was also green. She was looking back and smiling.
I still struggled with her passing, because my greatest anxiety was that she would not be happy where she was now. Two days later I saw her again. She was with a small group of people who were dressed in similar garb. I have since learned this is her soul group. They were chatting away quite contentedly, so I could relinquish my fear that she may not be happy where she is existing now.
She came a few times since then to visit me and her dad, to let us know that she was still with us and that she was alright.  The final time I saw her she was still dressed in her soul group outfit and was extremely excited about something she was being presented with.
I now believe I will not see her again, but am left with the honor of having been chosen as her Mother when she manifested into this lifetime. I have also since learned that even though we give birth to these wonderful beings, they are not ours. We only have the privilege of loving them, caring for them and at best be able to give them guidance for the designated time. Their soul journey is their own business and despite the fact we may not always like it, or agree with it, it is their path to walk.
She has gone to another existence, into a life beyond this plane, and it is now giving me a great sense of relief to know that this is available to us all. Hopefully I will fulfill my own soul's purpose while I am absorbed with this life, and I am actually looking forward to my own life beyond this one.
*Psychic Access mourns the loss of our beloved friend and colleague, Kathy, and we hereby extend sincere condolences to her family and loved ones. She will be missed and always remembered. A life that touches others goes on forever.

About The Author: Kitty

Kitty is a Canadian Intuitive, born into a large family of clairvoyants and clairaudients. A local celebrity, she's been giving accurate predictions in her paper for over fifteen years now, and is often called upon to lead séances and provide readings at Psychic Fairs in Vancouver. A trained counselor, she combines her natural Gifts to detect blockages at their root, and provide detailed psychic information and practical advice for success and happiness. She's helped locate missing items and people, has communicated messages from loved ones who've passed on, and communicates with two Sacred Celestial Beings who are unerring in the startling information they provide. If you'd like to connect with this remarkable Intuitive, whose talent spans generations, you can find Kitty at PsychicAccess.com.


One Response to My Daughter's New Life Beyond This One