Morning Has Broken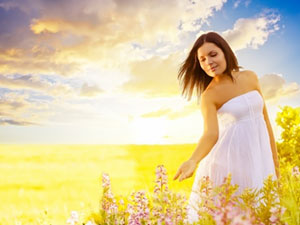 Joy and inner peace only comes into our hearts as we invite the feeling into our awareness.
Sometimes we have a situation where we start to feel fear, anger, hurt, resentment. We know we have tried to do everything right, but nothing seems good enough, perfect enough, strong enough. Bitterness begins to creep into our minds. It is in these moments that we have to become determined to think of at least one small sliver of good, of positive in the situation.
Everything in the universe has a negative and positive, much like a battery. There is duality and polarity in every situation. It is universal law. Say, for instance, there is a problem at work. There is one co-worker who is difficult and out of sorts all the time. We have to learn to be a bit more diplomatic, learn to deal with such a person while staying centered and balanced, while at the same time teaching them how to have grace in harsher times. We can be the hero.
The best remedy for those who are afraid, lonely or unhappy is to go outside, somewhere where they can be quiet, alone with the heavens, nature and God. Because only then does one feel that all is as it should be and that God wishes to see people happy, amidst the simple beauty of nature ~ Anne Frank
The most positive part of the above situation is that we don't have to socialize with this co-worker. This way we don't get caught up in office gossip and politics. Instead we can focus more on our work, maybe get that new raise or promotion. See how it's done? We can learn great inner strength, whilst teaching someone else through our example.
We are our thoughts, we become our beliefs. We can focus on joy and happiness, or suffering and pain. It is a choice.
Let us face the new day with a readiness for happiness. Let us be ready to expect great news events, new adventures, the answers to come to problems and issues we have struggled over for some time. This day is an exciting new beginning; we have been given a gift. The Sun is shining bright after the cleansing rains. The air is brisk and bright with a quiet calmness.
Today we will follow our path, find our truths. We will be happy with our joy and excited by the thoughts of good coming our way. Expectant with new ideas, new plans, we are ready for the final days of this year, leading us into a new year and a new beginning. Morning has broken.

About The Author: Mariella

Mariella is a New York resident, born in Italy, who began accurately reading at the age of eleven with just an ordinary deck of playing cards. She's since designed her own deck of Tarot cards as well as a unique time board that provides clients with startlingly accurate time frames for her predictions. For a reading with this warm, funny, and highly detailed Clairvoyant and Empath, you can find Mariella at PsychicAccess.com.