How To Heal A Broken Heart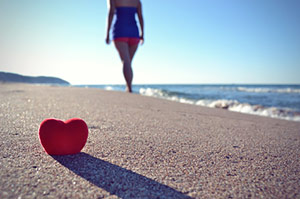 It can be very difficult to heal from a broken heart. It is no accident that there are so many sad songs written about lost love, and so many stories in magazines and on talk shows about failed love relationships. Many self-help experts proclaim they have the true answer to how to heal a broken heart.
I know from personal experience that it can be one of the hardest things in life to understand and overcome. When I had my heart broken, I used music in healing process, because I could relate what the song was about. Some people prefer to write in a diary to process their thoughts and feelings; sometimes they even write a letter to the former lover to get a few things off their chest.
Let your tears come.  Let them water your soul ~ Eileen Mayhew
There are however other ways people try to get rid of the sadness of a broken heart that are less constructive, including drug and alcohol abuse. And apart from romance, broken hearts can come in many other ways also, from someone passing away to many of life's daily disappointments.
The pain was hard for me to deal with after my father passed away, but surprisingly I discovered that by working on PsychicAccess.com I found healing by being able to bring happiness to others. It took my sadness away and made me feel good, because I know my father would have wanted me to do this work. That is just the kind of person he was.
We must embrace pain and burn it as fuel for our journey ~ Kenji Miyazawa
I get calls about all kinds of heartbreak working as a phone psychic. I feel at times there are no apparent reason why things like this happen to good people. It does not make any sense that our daily life can change so suddenly, like the weather. But spiritually I have come to understand the universal laws of polarity and duality. What goes up must come down. Without the bad, there will also be no good. And a new day always follows the darkest night. Maybe your broken heart is a just a step closer towards a brighter tomorrow.
At times life is like a roller-coaster ride, with loops and sharp curves. When it comes to healing a broken heart, try to find a spiritual solution. Ask your spirit guide for help, or pray or contact your favorite psychic. You will soon be shown that every cloud always has a bright, silver lining!

About The Author: Raymond

Growing up on the streets of Columbus Ohio, Raymond learned at a very young age that he was gifted in many ways, including the ability to read someone's eyes and using a regular deck of playing cards to read the future! His mother was from a Native American family, namely the Black Foot tribe, and his father was German. Raymond discovered that both sides of his family had a psychic legacy. Over the years he has gained additional knowledge from books and by talking to trusted family members. Raymond has been doing psychic reading for others for over 3 decades, and over the years he gained many loyal clients from all walks of life. Visit Raymond for a reading at PsychicAccess.com