Why You Should Keep A Dream Journal – Part Two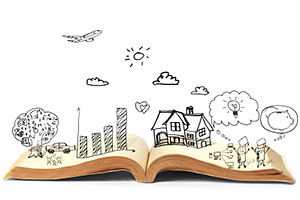 Continued from: Why You Should Keep A Dream Journal – Part One
Are you one of those people who just don't remember your dreams, or believe you just don't dream. Well, I have good news for you. You are definitely dreaming you just need to know the tools to remember them. I will share those with you in this blog!
Here are a few things you can do to help you remember your dreams, so you can record them and get the most out of your life. Dreams help make that possible so here are the tools so you can start restoring balance to your life and gaining greater spiritual awareness and enlightenment.
Dreams say what they mean, but they don't say it in daytime language ~ Gail Godwin
Sleep
You must get adequate sleep. If you feel you don't get enough sleep to get a chance to connect to that deep level of altered consciousness needed to dream, you must make the time. Make plans to get to bed earlier. Sleep is healing and rejuvenating. If you can make that time, grab it with both hands, as it's the best health insurance you can give yourself.
Moonstones
They are cheap. You can buy them online for next to nothing, and often times with free shipping. Moonstones, like most stones, have a unique energy to them – they vibrate like the quartz crystals used in clocks and watches.
Moonstones help you to remember your dreams – tried and true. They are amazing, precious little gems. All you need to do is put one under your pillow. If you have a or a zip up pillow case, like I do, just unzip your pillow case and put it right in there on the underside of your pillow, as you don't want it to be hurting your head when you sleep. If you don't have the zip pillow case, you can easily put it right under your pillow, it still works great. It's like having a fishing line in the water, to reel in those dreams.
Intention
Ask for dream input from your higher self, the divine, God – whatever you define as bigger then yourself. Ask your guides whatever is most comfortable to you. It's as simple as ask and you shall receive. Ask for whatever information or knowledge you wish to come through – be it your health, insight on a person you're dating, a spouse, work, anything, whatever you want to know. Tell yourself, I will remember my dream.
A dream is a microscope through which we look at the hidden occurrences in our soul ~ Erich Fromm
Journal
After you are conscious, and awake from your dream. Don't Move! Don't even open your eyes. Just allow the dream to download into your consciousness and then roll over to where you keep your dream journal. This journal doesn't have to be anything more than a computer tablet, an online dream journal, or if you wish get yourself a nice old-fashioned journal. You can also buy custom dream journals, so get something that you like that is special to you. You can spend as much, or as little as you wish – it doesn't have to be anything fancy.
Review
After several months have gone by, feel free to review your dream journal. You will be amazed at how some of the things have come to pass and you were given the heads up in certain areas that helped you. Some dreams may have given you the heads up about someone's passing, and so forth. You will see how truly significant your dreams are, and how they have the ability to  help you connect with your spiritual and creative potential.
In the next blog post I will share the different types of dreams we all have. Until then, Happy Dream weaving.

About The Author: Moon Goddess

Moon Goddess is a third generation empathic healer and seer. She started to give healing readings to people more than 20 years ago. She has always been interested and studied all things metaphysical from a young age. Being hypersensitive she can feel and see things before they happen. Utilizing the Tarot, and with the help of her Guides, she is a source of support for many people all over the world. After he passed over, her grandfather kept his promise and came back to say goodbye and gave her the most amazing experience. Moon knows there truly is a Heaven, and it is wonderful! Sharing her experience has helped many people after they have lost someone, or anyone experiencing some form of grief. Get a reading with Moon Goddess now at PsychicAccess.com.