Fraudulent 'Psychics' Make Us Look Bad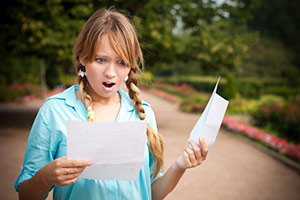 Fraudulent 'psychics' make reputable, honest psychics look bad. When I talk to my clients I treat them the same way I would want to be treated! I go out of my way to do this, because of the damage done by scam artists and fake psychics. My clients sometimes talk about other psychic websites and phone lines they had used in the past, and tell me of the unpleasant experiences they had using these services. The things they encounter there are often shocking.
Lately, I have been getting more and more questions and complaints from clients who are receiving letters in the mail. A so-called psychic would send them a letter to tell them all manner of lies to get some money out of them.
Fraud and falsehood only dread examination. Truth invites it ~ Samuel Johnson
My father-in-law recently got such a letter from someone who claims to be a psychic. They were targeting him because of his age. The writer claimed that she could give him his lucky number or lottery number. As I was reading this letter, I pointed stuff out to him that made it obvious that it was all a scam. I told him we need to start at the beginning of the letter, which was the return address. When we looked up the address it was sent from, it had a warning message come up online, stating that this address had been used in many fraud cases in the past, and the person had not yet been busted.
It was clear that this was psychic fraud, because they were asking him for the account number for his credit card or his banking account. These people who claim to be psychic prey on other's feelings, hopes and dreams.
I had a client telling me recently that she also got a letter in the mail, like the one my father in-law received. It really bothered her, because of what the letter said. She asked me what to do and I advised her to call the local police, to see if there was any more complaints. I also recommended she go to her local post office and ask them to stop sending mail to her address.
The same fraud is perpetrated on the Internet. If you start to receive stuff in the mail and they're asking for money for services you never requested, something is wrong. Several clients have called to ask me about this stuff they get in the mail. In the end they come back to us at Psychic Access, because our team of psychics are people you can rely on to be real and trustworthy.
Whoever commits a fraud is guilty not only of the particular injury to him who he deceives, but of the diminution of that confidence which constitutes not only the ease but the existence of society ~ Samuel Johnson
PsychicAccess.com recently published a helpful checklist about psychic fraud in an attempt to counter act the evil of phony psychics who harm clients and ruin the reputation of true psychics. It really gives me a sense of peace to work for such an organization, who looks out for both its clients and employees.
I always make is clear to my clients that a psychic should not ask you for money to heal you, or to protect you, or make your life better, or to give you the winning lottery numbers. I try to make them more aware and to watch out for the scam artists in our field. These people are experts at ripping people off. If I can help one or two people by showing them what to look out for, I have done more than most.
Remember, whatever psychic websites you go onto, make sure you research them on Google first and then also look at their  reviews and feedback. See what experts in the field and other clients write about them. Remember, you work hard for your money and your hiring them to try to help you see or make your life better. This is your life we're talking about and please look out for the scams and make use of a reputable psychic website with a proven track record.

About The Author: Raymond

Growing up on the streets of Columbus Ohio, Raymond learned at a very young age that he was gifted in many ways, including the ability to read someone's eyes and using a regular deck of playing cards to read the future! His mother was from a Native American family, namely the Black Foot tribe, and his father was German. Raymond discovered that both sides of his family had a psychic legacy. Over the years he has gained additional knowledge from books and by talking to trusted family members. Raymond has been doing psychic reading for others for over 3 decades, and over the years he gained many loyal clients from all walks of life. Visit Raymond for a reading at PsychicAccess.com


One Response to Fraudulent 'Psychics' Make Us Look Bad