How To Create Your Sacred Space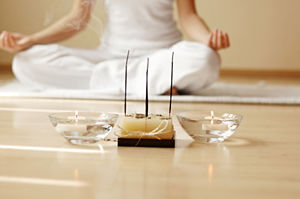 I used to get rather uptight about whether or not I was dedicating enough preparation time prior to seeing clients, both for psychic readings and energy healing sessions. That was until I visited a well-known elderly spiritualist, who lives in the countryside outside of Johannesburg, South Africa.
His words to me were, "You work with those on the other side, just like I do, but I feel you fret and think the preparation needs to be a lengthy process". He was right, I was anxious as to whether the prep time with my guides was ample before sessions began. "I just want you to 'set your intention' each morning before you begin," he concluded. Hearing him say that felt like a load off my shoulders. For me, keeping it simple was what I learned years ago in Alcoholics Anonymous, and of course it works. The main ingredient of successful preparation is after all the 'intention' to help others, and to open up to spirit working through you.
As soon as a man stopped wandering and stood still and looked around him, he found a god in that place ~ Eudora Welty
I have a shelf in a corner of my work room with crystals, photos, ornaments, feathers, trinkets, and a few other objects meaningful to me. This shelf could be referred to as an altar, although the actual word 'altar' tends to conjure up spooky sacrificial images for some people! The whole idea of an altar is to create a sacred space, a regular refuge for prayer and meditation. As I have developed on my spiritual journey, so my altar has changed with me.
The main criteria for an altar are that it needs to be in a place where both the altar won't be disturbed, and you won't be interrupted when you are there, and that the objects found there are of personal significance for you. Intuitively we know where the best location for our sacred space is, and this can vary from a place in the bedroom, even to an outside shed.
The items you place on your altar depend on personal choice, and even what is intended as an outcome of the meditations, for each item that you have chosen will have its own special symbolism and power.
When I created the altar in my current home, the first things I put there were photos of my deceased father and deceased pets, a figurine, followed by a candle or two in colors, and of fragrances I felt were needed energetically.
Command the space of your beingness – a space where you are allowed to grow into your true, unique nature ~ Bryant McGill
Select items for your altar with care; often those with special memories and energies work best. A Hindu friend of mine has a magnificent altar tailored into her gorgeous home she recently built. Another friend has dedicated one corner of her bedroom and created her altar on a corner unit. If you live in a communal area, you could even create your area of contemplation on a small bamboo tray. Bamboo is sustainable and not endangered, therefore eco-friendly) and the tray can be placed in a cupboard when not in use.
If you wish to build your own altar with specific intent, you can  select items from the five elements of Earth, Fire, Water, Air and Ether (Spirit). Crystals placed on your altar will help keep other items clean too.
There are no hard and fast rules about creating your sacred space, other than what it means to you.

About The Author: Shani

Shani is a qualified practitioner in Reiki, aromatherapy, reflexology, body spin, and animal telepathy who received psychic development training at the Arthur Findlay College of Psychic Research in England. A published writer, her articles and predictions have appeared in several respected magazines and on psychic websites, and she has read for many celebrities and even heads of state in Africa. Because of her empathy, people find it easy to connect with her. Every month, she attends a psychic circle and the information that comes through from Spirit never ceases to amaze everyone present. Though she was born in London, Shani has traveled the globe and has studied the art of African Mysticism, bringing her unique flavor to those seeking her incredible talents. What she has taken away from her many travels abroad, is that there is always a sort of longing clients have to be connected to the source of their being. Get a reading with Shani at PsychicAccess.com.


One Response to How To Create Your Sacred Space