Destination: Self-Realization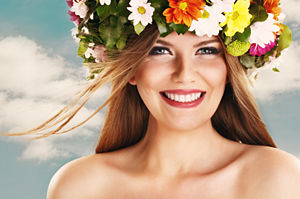 What can really make a person happy in life? In my work as professional psychic I talk to all kinds of people, including some very wealthy and financially secure folks. There often seems to be a void in their life and they are generally not happy. In fact, some of them are truly depressed and miserable.
I also talk to many folks who are married, have loving and caring partners and even a great sex life. The have the whole package, but they too are unhappy and depressed at times and not entirely content.
While no one is completely happy all of the time, you would think we could all get to the point where we would live a content, happy life, like the enlightened beings of the world. But sadly, many of us can't afford to go far away to India or live in a cave to find out what this is that we need to get in touch with to be truly happy.
You have to leave the city of your comfort and go into the wilderness of your intuition.  What you'll discover will be wonderful.  What you'll discover is yourself ~ Alan Alda
For myself, I have found my version of true happiness and have shared this with many of my clients. It only requires a few simple things:
1. Solitude and quietness to hear yourself think. Block out what the world is telling you what you ought to do and think. You must discover what you need to have a happy and meaningful life for yourself, and then you will have the first part of what makes you content and allow you to live a life of 'heaven on Earth'
2. Dedication to wanting to take the time to find out who you are and why you are here.
3. Once establishing what these things are in your life, actually going out and doing them, or just putting forth the time and energy to accomplish whatever it may be that you feel you must do.
4. You don't have to do anything other than go with the ebb and flow. Let go and let God, or whatever you define as that higher source of all love. Don't force anything. Just move when the time is right and stay still if you are uncertain. Ask your higher self or God to give you messages in your dreams, and as I mentioned in a previous blog, if you don't dream or think you don't get a moonstone. Put it under your bed and those dreams will come in and you will remember them.
5. Think mindfully before you speak and if you don't feel right about something don't do it. Pay attention to your intuition. Personally I had to separate myself from anyone and anything that was telling me what I should be, or do. Too much information can create chaos and make anyone thing in fragmented ways.
I really feel once you realize who you are and what you are here to do, you will have arrived at your destination of true happiness on Earth. You will want for nothing, but to continue on this road of happiness and bliss. So, today let your destination be the path to self-realization!

About The Author: Moon Goddess

Moon Goddess is a third generation empathic healer and seer. She started to give healing readings to people more than 20 years ago. She has always been interested and studied all things metaphysical from a young age. Being hypersensitive she can feel and see things before they happen. Utilizing the Tarot, and with the help of her Guides, she is a source of support for many people all over the world. After he passed over, her grandfather kept his promise and came back to say goodbye and gave her the most amazing experience. Moon knows there truly is a Heaven, and it is wonderful! Sharing her experience has helped many people after they have lost someone, or anyone experiencing some form of grief. Get a reading with Moon Goddess now at PsychicAccess.com.