Technology Does Not Make Love Any Easier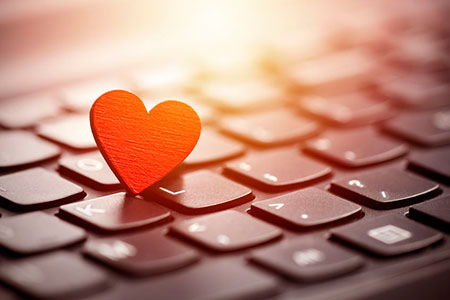 I have personally found over many years of falling in love myself and having been in both good and bad relationships, as well as doing love and relationship readings for thousands of clients all over the world, that romantic love is more about personal soul growth, spiritual evolution and enlightenment than anything else. I find that only once we have learned certain life lessons and spiritual insights, especially with regards self-love, are we truly ready and able to love others unconditionally. Only then you can truly love someone one else, and have them love you equally in return. When this finally happens it is a lovely thing indeed, but in today's world it is becoming be a rare thing.
Having a tight-knit, loving family or a lasting romantic relationship has become almost 'abnormal' in our modern world. In my view technology has been hindering us more than it is helping. The many social media platforms and dating apps we use these days has made love and romance even more complicated. These social networking sites have also created many new problems in long-term relationships and marriages, and I have witnessed it destroying many good relationships.
For example, too many of folks are curious about their ex-partners, because they now have more access to 'stalking' others. Some even want to reunite with their ex, who has married someone else in the meantime. Social media offers them an easy way to renew contact and often leads to trouble. Don't get me wrong, technology is a great thing if used properly, but sometimes it can be also be too convenient and intrusive in other people's lives.
Online dating is just as murky and full of lemons as finding a used car in the classifieds. Once you learn the lingo, it's easier to spot the models with high mileage and no warranty ~ Laurie Perry
In this day and age it's more important than ever to stay close to your family and the ones you hold dear, and to tell them how much you love them. One should not even consider opening the door to temptation. There is always a domino effect, especially if your intention is to reunite with past loves. Too often the other party involved in the situation gets hurt, such as a spouse or girlfriend. It starts out innocent enough, but often times ends with tears and damaged relationships – all because of something that seems so innocent and convenient in the beginning.
I can attest to this because many of my clients have been cheated on and disappointed, because their significant other chose to use digital technology in a destructive manner. They never think it would get out of control, but there are always ripples to every action.
I have limited the privacy settings on all of my own social media profiles years ago already to only be accessible to close family and trusted friends. I prefer it that way and have not once regretted the decision. It's simple and stress-free. I try to avoid drama in my life at all costs, as it can be so damaging to our mental health and physical well-being.
You don't need to get off of social media entirely if you know that you have the potential to use it healthily and want to keep your account. Just be aware of how you're using it and how it's affecting your mental health and relationships ~ Lindsay Hamilton
If you are currently seeking love or hoping to find a partner, think about the attributes you want in that person. Then proceed with caution, especially if you are dating online. The key is to be careful on all levels and too look in the right places. Find someone with the same values and ideals. This way you won't set yourself up for disappointment. For example, if he is married and wanting to meet with you, be thankful you are not married to him, because he would probably do the same thing to you in the future. Our spiritual inner guidance system is wonderful at confirming what we already know to be true. We just need to pay more attention.
I do believe in true love, but I also know from both personal and professional experience that it doesn't just happen. Lasting, healthy love takes hard work and sometimes it can be a roller-coaster ride to get there. Do not assume modern technology makes process any easier or quicker. Your phone or computer cannot create a successful, happy love life – only your heart, mind and soul can.  And as long as there is mutual respect, trust and fidelity, I believe love can last forever. Love is after all the most powerful force in the universe and I know from many years of spiritual work that it lasts way beyond the human vow of "until death do us part."

About The Author: Moon Goddess

Moon Goddess is a third generation empathic healer and seer. She started to give healing readings to people more than 20 years ago. She has always been interested and studied all things metaphysical from a young age. Being hypersensitive she can feel and see things before they happen. Utilizing the Tarot, and with the help of her Guides, she is a source of support for many people all over the world. After he passed over, her grandfather kept his promise and came back to say goodbye and gave her the most amazing experience. Moon knows there truly is a Heaven, and it is wonderful! Sharing her experience has helped many people after they have lost someone, or anyone experiencing some form of grief. Get a reading with Moon Goddess now at PsychicAccess.com.