Rebuild Your Trust In A Benevolent Universe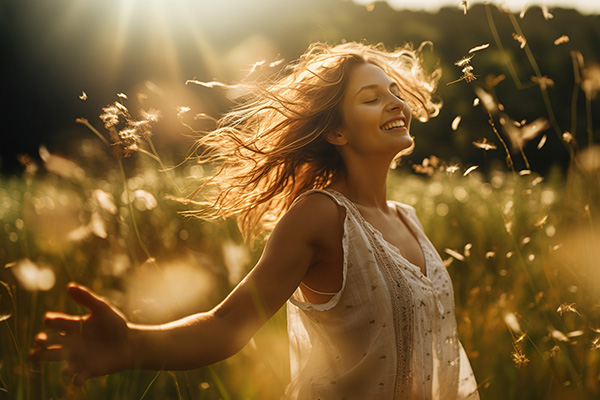 Have you ever watched a child learn to ride a bicycle? There is a certain excitement associated with this rite of passage as youngsters wholeheartedly embrace the possibility of being able to soon ride down the street without help.
The first time they get on a bike, they have no prior knowledge or experience to compare it to. Nevertheless, it is usually easy for most children to accept that they will be able to accomplish this task.
Most kids, in their innocence, focus on the joy, freedom and fulfillment of riding a bike rather than worrying about not being able to do it, let alone falling and getting hurt. They also don't think in terms of good or bad 'luck' determining their ultimate success, nor do they imagine that riding a bike is a special gift, talent or privilege reserved only for certain people.
Perhaps this self-belief stems in part from an encouraging parent who has confidently assured the young person that they will indeed be able to achieve this skill. Perhaps the child has seen other children learn to do it and therefore trusts that they can do it, too.
The thing about children is not so much that they blindly or foolishly trust, but simply that, unlike most adults, they have not yet learned to distrust. Being able to trust as an adult is therefore not so much a matter of learning to trust, but of regaining the ability to trust that we once had, until we lost some or all of it through trauma, disappointment, betrayal, or hardship.
A few months ago, I had a heartfelt conversation with one of my neighbors. She was complaining about being chronically short of money and living in constant fear of not being able to pay her bills and provide for her basic needs.
The universe is a friendly place that wants to give us everything we need ~ Deepak Chopra
I explained to her that I personally do not subscribe to such a mindset of lack and scarcity. Instead, it has been both my belief and lived experience that we live in an abundant, benevolent universe where we are always provided for and our needs are always met somehow. What she needed even more than money was to cultivate an abundance mindset.
She took my advice to heart and a few days later she let me know that she had put it out into the universe that she needed a better way to take care of herself financially. Well, not long after asking for this divine intervention, she received a fantastic job offer!
But, while she was very excited and grateful, she still held on to a skeptical mindset of "almost too good to be true" and "let's hope this works out." Then, to make matters worse, the employer did not call her back immediately to finalize the contract and set up her new work schedule. So, my dear neighbor quickly spiraled back into her usual state of negativity, cynicism, and doubt.
The universe is a place of love and abundance, and we are all connected to it ~ Eckhart Tolle
Once again, I calmly explained that she needed to trust that things will work out. The more she fears and doubts, the longer it will take, and the more likely it is that things might even go wrong. Our thoughts create our reality and shape our destiny.
I contacted her again recently to see how she was doing. She was happy to report that she is doing great in her new job and that things are starting to come together for her financially. Most importantly, she is finally learning to rebuild her trust in a benevolent universe.

About The Author: Kitty

Kitty is a Canadian Intuitive, born into a large family of clairvoyants and clairaudients. A local celebrity, she's been giving accurate predictions in her paper for over fifteen years now, and is often called upon to lead séances and provide readings at Psychic Fairs in Vancouver. A trained counselor, she combines her natural Gifts to detect blockages at their root, and provide detailed psychic information and practical advice for success and happiness. She's helped locate missing items and people, has communicated messages from loved ones who've passed on, and communicates with two Sacred Celestial Beings who are unerring in the startling information they provide. If you'd like to connect with this remarkable Intuitive, whose talent spans generations, you can find Kitty at PsychicAccess.com.