Find Your Calm In Crystals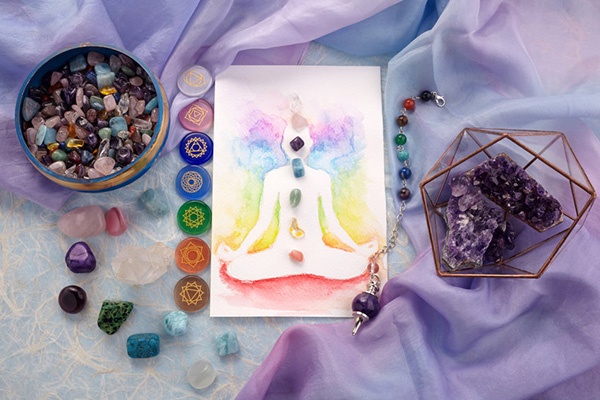 It's been a stressful couple of years for everyone, and stress-relief can be hard to accomplish. Stress, if untreated, can lead to a host of physical and emotional symptoms. But dealing with the stress of everyday life can be made easier with the right crystals in your spiritual practice.
When starting to work with these amazing crystals and stones, consider this: what causes stress in your life in the first place? Usually, it happens when we feel out of control and our energies aren't properly centered and grounded. Earth-toned crystals such as smoke quartz (associated with the Earth element for stability) and tourmaline (release of negative energies) bring us to a baseline of positive energies to de-stress.
Soothing colored colors like blue (chrysocolla, aquamarine, lapis lazuli, larimar), violet (rhodonite, amethyst, tanzberry quartz, lepidolite), and white and grey (scolecite, howlite, agate) are traditionally associated with tranquillity and serenity. The cooler hues reflect the elements of water, or emotions, and air, our thoughts.
If you use some of these stress-relieving crystals in your meditations, imagine them help tame the runaway thoughts or feelings which cause so much turmoil. In the chakras, these are the Crown Chakra (thoughts) and Third Eye Chakra (emotions, psychic intuition), which are also represented by blues and purples.
Sometimes stress is less generalized and more related to one specific area in life. Which area is this for you? Knowing will help select the best crystal for your needs. If you're overcome with panic attacks, amethyst (a well-known stress reliever) or blue sodalite (the Stone of Peace) are good choices.
Perhaps you're having difficulty with communication at work or in a relationship, so blue lace agate (opening channels) or lapis lazuli (confidence) will work better for you. The possibilities for your crystals are endless: you might want to keep them with you in your pocket, in a necklace or bracelet, or create a special arrangement in your home or office.
No two crystals are the same. They are like snowflakes. Each crystal has its own particular vibration, and each will resonate differently. Look for one that will resonate with your being —regardless of size, shape, color, or jeweler's quality. It's the intuitive impression which is important ~ Phyllis Galde
If you're new to working with crystals, start simply. Choose a specific stone which speaks to you and whose properties fit your needs. Find a quiet spot and purify the space using sage or incense. While holding your stone, visualize a light or favorite place of peace. Imagine the energies grounding your stresses and having those negative energies flow outward, or else dissipated by your crystals. Do this as often as you like. Some people also like to repeat a favorite saying or mantra to reinforce the positive energies.
Cultures around the world have known the power of crystals and their healing energies for centuries; today they still have the power to bring healing and calm in a chaotic time. It you feel stress is taking over your life, find a few crystals which speak to you: their energies, their colors, or simply the way they feel in your hand. When you start to unlock their possibilities, you will find the stress leaving your body and mind. Use these miracles of nature to find stress relief and find joy, purpose, and fulfilment in your life again.

About The Author: Mystic Shelley

Mystic Shelley is a five-star psychic, Reiki healer, clairvoyant and empathic reader. She offers her clients honest answers about past, present and future events with the help of her trusted guides. She reads in the area of love, relationships, career, money and all matters of life. Mystic Shelley was born with talents that would later mark her as a gifted psychic, but she chose not to embrace them early on. In her 30's, a not-so-chance meeting with a celebrated psychic set her on a course that awakened her gifts. Born with the gifts of clairvoyance and empathy, her psychic mentor helped her to expand those abilities, taking her talents to the next level. With experience came proficiency and today she has a growing list of devoted clients who sing her praises. In addition, she's also actively assisted other psychics to open up to their abilities. If you are looking for direct and honest answers get a reading with Mystic Shelley now at PsychicAccess.com