The Benefits Of Daily Journaling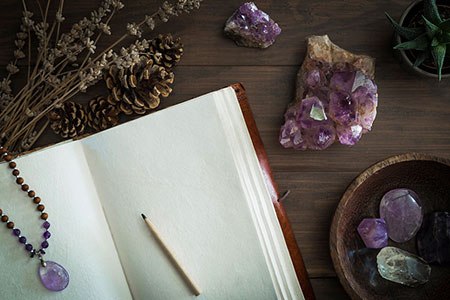 I have always loved writing, since I was a little girl. However, as I grew older and became a wife, mother and business owner, I found I no longer didn't have enough time to follow my passion for putting pen to paper. During the pandemic I suddenly had more time on my hands. Not only did I discover the art of journaling during this time, but I also learned a lot about myself in the process.
I am now the proud owner of a fitness journal, a gratitude journal and a well-being journal. No, I do not write in each of them every day, but I do journal at least once every day, usually before bedtime. I have found that the benefits of journaling to be manifold.
First and foremost, I find journaling to be a form of meditation. Let's face it, traditional meditation, as empowering as it can be for some, is not for everyone.
Journaling, on the other hand, is not only a form of self-expression (which can be very stress-relieving, to say the least), but it also connects you to the deepest parts of your inner being that may otherwise be drowned out by daily life. Journaling allows you the quiet time to reflect, truly express yourself, and look within – where the answers to life's problems can often be found when one is in a calm state.
Journaling also trains the brain, because you use both hemispheres of your brain simultaneously. Journaling employs the right brain, by expressing our creativity and feelings, as well as a left brain use of analysis and critical thinking. Journaling also helps to improve one's memory.
Have you ever heard of RAS, otherwise known as the Reticular Activating System? Apparently, when we write by hand, this stimulates RAS cells and whatever we are focusing on at the forefront of our minds becomes processed into its deeper recesses. Therefore, it is imperative that when writing, we remind ourselves of how important the words are that we are writing – even if they are to ourselves!
Journaling can help us learn from past mistakes. When we record a past experience and reflect on the lessons we have learned from it, it moves us forward. Drawing upon these new insights, we can then approach similar issues or problems more effectively and secure a better end result.
People had been keeping diaries long before scientists thought to put them under microscopes. But in the past 30 years, hundreds of studies have uncovered the benefits of putting pen to paper with your deepest thoughts and feelings ~ Kira M. Newman
I find that journaling has also been improving my communication skills. When you think about it, writing things down is a form of communication, even if it is with oneself. The better we can communicate with ourselves, the more effective communicators we become with other people. This has a positive on relationships and friendships.
Many people have been struggling with insomnia lately, but I find am sleeping better these days since I started journaling. Instead of tossing and turning all night, going over and over the same worries in my mind, I now journal about those issues before I turn in. Doing so helps me clear my mind and fall asleep more easily.
My mind is more at ease, because my journal now serves as my clear to-do list. Writing down your problems and looking at them again a day or two later, helps me to get a better perspective and solve problems more easily.
I'm not saying you're problems go away the moment you put pen to paper, but you do realize that your problems aren't as daunting as they seem in your head once you've gotten them down on paper – and that's a great first step, no? ~ Dean Bokhari
Journaling will also help you to achieve your goals! If you are a target-driven, solution-seeking individual, then journaling is definitely for you. For one, writing down your ideas and the goals you wish to achieve helps you to stick to it and motivate you to see it through.
Furthermore, when journaling, you can constantly affirm to yourself the validity of your goals and how achievable they really are, thus defeating self-doubt and empowering yourself at the same time. Journaling also allows us to break down our goals into 'bite-size,' achievable pieces, thus taking a lot of the challenge out of the goal but keeping us motivated. It also makes us more accountable – only to ourselves.

About The Author: Lucinda

Lucinda is a highly trained Intuitive and Empath, living in a beautiful village in North Yorkshire, England. She possesses the rare gift of understanding a client's personal pain and has been through many challenges, herself, which has only made her stronger! It is both her calling and her happiness to help those in need. And whenever she needs a little help herself, her Guides are always there to assist in her development and provide clear interpretations for her clients. Prediction has always been a great tool she could count on to accurately foretell events, but Lucinda also draws on her expertise with Dream Interpretation, Numerology, Angel Cards, Law of Attraction and Life Coaching to provide full and detailed solutions to any problem. A member of AMORC and Beyond Freedom Evolution, she provides inspiration, education and personal support for spiritual development. If you'd like answers or want to attract your desires, you can find Lucinda at PsychicAccess.com.