Astrology Forecast July 19 – 25, 2021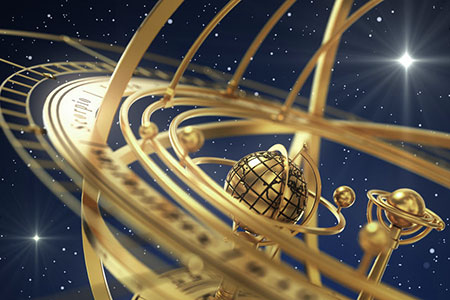 We are certainly in for a busy parade of astrological events this week! Venus moves into Virgo on Wednesday, the Sun enters Leo on Thursday, and the Moon waxes full in Aquarius on Friday. So, basically, this week is a triple-header!
However, before the shifts occur later this week, we'll need to embrace the purpose-filled energy of today's Scorpio Moon, attending to loose ends and unfinished business that may have been on the back burner for the last few weeks. It is important that we do this in order to to clear a space for new energies to come in later this week.
So, we could end up working late today, or find ourselves having to delegate to get everything on our to-do list completed. But be patient and courteous with coworkers and employees, because the Scorpio Moon square Mars in Leo can cause us to us be hurried, irritable, and difficult to please.
Tomorrow's Sagittarius Moon will cast a more light-hearted, spirited energy, making harmony and fun an underlying theme as we begin to move forward. Venus will also move out of fanciful Leo and into more grounded Virgo tomorrow, reminding us to be more altruistic and humanitarian in our attitude, and less self-focused for the next few weeks.
It will be easy to tell when the Sun moves into Leo on Thursday, as we begin to move into the final days of the season and start to sense a higher energy and purpose to our movements. For the next four weeks, a heart-centered tone will move us forward, evoking our generous sides and promoting greater self-love and self-care.
Friday's Aquarius Full Moon arrives at the perfect time, as it promotes release and letting go of any ideas or mindsets that are holding us back. If we embrace this process and shift our thinking, it will be much easier to move into August with renewed hope, passion, and purpose.
The Moon in Aquarius will also make this a great weekend for fun, entertainment and social activities, so plan something crazy and exciting for Saturday!

About The Author: Susyn

Susyn lives in New Mexico, and offers Psychic Guidance, Astrological Insights and Channeled Messages that will change your life! Her credentials are top-notch and include a doctorate in metaphysical studies and certifications from The American Association of Professional Psychics and The American Tarot Guild. She's also a published author, with two metaphysical books under her belt, and has authored numerous articles and horoscope columns. In addition to her readings, Susyn is also a mentoring practitioner who teaches others how to master their own gifts, raise their vibrations, and empower themselves. A sought after guest on numerous radio programs, she has also hosted her own radio show. If you're looking for one of the truly bright shining stars who can also read them with an accuracy that will astound, look no further. You can find Susyn at PsychicAccess.com.