Tomorrow Will Worry About Itself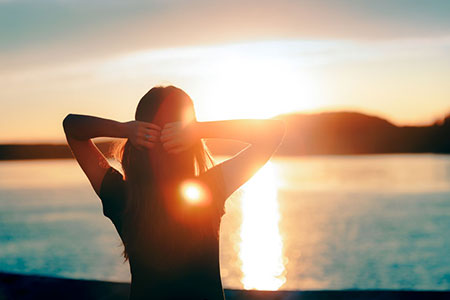 Scrolling through my Facebook feed today, I noticed a link to an article titled, "Hell Is Coming." It featured a graph for the stock market plummeting deeply into the red. Obviously, I did not read the article – the picture and title said enough!
I am sure you have also been noticing an increase in negative messages on social media platforms and in the mainstream news. As a spiritually aware person, I don't see any intrinsic value in this kind of negative speculation.
Yes, we all must deal with the circumstances that we are currently facing in our world, and it is important to effectively process our feelings along the way. However, when it comes to speculation, there is no difference between a positive speculation and a negative speculation. They are both fantasies conjured in the minds of others, spreading through our adoption of it.
According to some self-proclaimed 'experts' the sky is currently falling! Fortunately, I have never taken much stock in conspiracy theories and doomsday soothsayers.
It is true that we are going through a time of unprecedented change, and we are facing challenges that we have never faced before. But, that dramatic article could have easily read, "A Cure For Covid-19 Is Coming" or "This Is A Great Time To Invest In Affordable Stocks." Why is it that we don't see many opinions about best-case-scenarios out there?
Every day, every hour for many of us, we are bombarded with information that keeps us stirred up, worried, and chasing paper tigers ~ S.J Scott & Barrie Davenport
Note, I am not talking about science news here. It is wise to pay attention to the scientists and medical doctors in our current situation. However, listen to them with the understanding that these professionals are working tirelessly to find solutions to these challenges.
When it comes to conspiracy theories, I always remind myself of the wise words of the well-known spiritual author and speaker Wayne Dyer, who said, "It makes no sense to worry about things you have no control over, because there's nothing you can do about them, and why worry about things you do not control? The activity of worry keeps you immobilized."
And when it comes to the negative messages about the state of the global economy, I am reminded of what Mahatma Gandhi said, "The idea that economics is a verifiable science is one of the greatest evils ever foisted upon the human mind." The truth is that peach trees are currently still growing to produce peaches, even if the economic system as we know changes drastically, or not.
When I am talking to someone that is trying to convert me to such negative opinions, I always say in my mind, "That may be true for you, but it is not true for me." I would caution you to be careful about what you allow to be true in your life these days, because what you believe is the basis of your reality.  Whether it is true, or not. Whatever you choose to believe, becomes true for you. You do have a choice. A belief is simply a pattern of thought that we continue to think.
Many people are currently also expending a lot of energy worrying about what is going to happen, regardless the present situation. But the truth is that worrying is basically just praying for the things that you do not want in your life.
There is no need to go to India or anywhere else to find peace. You will find that deep place of silence right in your room, your garden or even your bathtub ~ Elisabeth Kubler-Ross
Worry is simply using the imagination to create images and stories in the mind that deviate from present reality. Fantasy is the flip side of the same coin. The only difference is that worry produces a negative emotional response, and fantasies create a positive emotional response. I would not really recommend either of these options. In my own life there were times when an excess of fantasy had been just as unhealthy as an excess of worry.
The imagination is a wonderful thing. Our imagination gives us the capacity to problem-solve. This is an excellent time to use your imagination to create positive things and future solutions. If you find you have enough time to worry, you might want to use that energy for uplifting creative purposes instead. Especially if what you are worrying about are scenarios that are completely out of your control.
It is important for us to recognize our reality. Many of us are grieving. Most of us are experiencing grief right now, as we experience the changes that are happening around us. Famous psychiatrist Elisabeth Kübler-Ross taught us that the stages of grief are denial, anger, bargaining, depression, and acceptance. I currently notice these stages in myself, do you see them in yourself?
It is important for us to face our reality as it is at this moment in time. We need courageous honesty about this situation and honor our emotional experiences. Jesus addresses this in Matthew 6:34, "Therefore do not worry about tomorrow, for tomorrow will worry about itself. Each day has enough trouble of its own."
An Affirmative Prayer
I choose to live in the now. This is the only moment that is real for me.
I surrender all my worries and concerns to the Divine Loving Creator, and I allow myself to fully live this moment.
I do my best to use my imagination for creative purposes.  Whether it is the best moment or the worst moment, I choose to be here now. 
Life is a gift and I choose Life. I give myself permission to laugh when it is time to laugh and to cry when it is time to cry. 
I find healthy ways to express the entire spectrum of my feelings. I let go of any criticism or judgment I have against myself or my feelings. I allow myself to be.
I choose to be gentle with myself as I trust my Higher Power to supply me with everything I need for this day and for the days to come. 
In the infinity of life, where I dwell, all is perfect, whole, and complete.
Amen. And so it is.

About The Author: Cosmic Coach

Cosmic Coach (James) is a Christian Minister, a teacher and an Energy Guide. He has been seeing and talking with Angels and Guides since he was 7. As a teen, it dawned on him the unique connection he had. He prayed for others at his family's Christian church, and received direct messages and healing energy from Spirit. As a young adult, he became ordained and is still attached to the Christian Church today. After mentoring with a remarkable psychic woman, he developed his own tools and began his full-time psychic practice. James has mastered many techniques in his psychic practice to connect with the unique heart center of each of his clients. He is a Reiki Master of many traditions, who is adept at crystal healing, card readings, and delivering detailed messages from Angels and Guides. James is always expanding the base of his knowledge to broaden his reach and serve as many clients as possible. To experience a unique reading personally designed for you, you can find Cosmic Coach at PsychicAccess.com.