Things Will Always Fall Into Place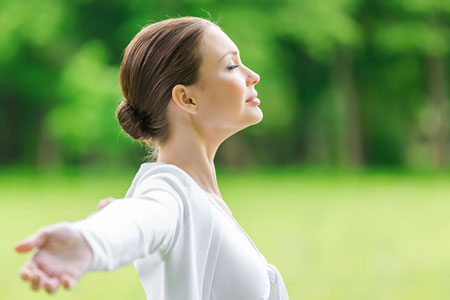 During a recent interview for a paranormal podcast, I was asked what the wisest advice or guidance was that my spirit guide or angel had ever given me. The answer was easy, "Fear not, things will always fall into place."
I was rushing around one day, hurried, feeling like there was just too much I had to do. I was feeling stressed out and anxious. All I wished for was to arrive at a place of stillness and contentment. But I forget at times that we can find stillness and inner peace right now, in any given moment. It is all about perspective and knowing that things change constantly, and our circumstances may very soon be different.
Sometimes we can become trapped in a way of thinking that isn't good for us. We get into a rut and we feel there is no way out, or that things won't ever change. But they always do in the end. That is the thing: knowing that circumstances always change and energy is always shifting.
Instead of being sucked into this kind of negative thought pattern, try the following strategies instead.
Keep a positive attitude. Become the energy you wish to attract. Like attracts like.
Visualize to materialize. I like to do this literally right on the cusp of sleep. It really makes things manifest for me easily this way for the next day, or days ahead.
Hold the Vision. Drop the excuses. Remember your why. Swerve around obstacles. Trust the process. Happiness and success will find you ~ Karen Salmansohn
Remember that you can talk to your spirit guides and angels. They are ready to listen and help you. You just need to ask. They are waiting.
Take a few deep breaths. Know that this too will pass. Things will get better. Everything changes.
Remember that time is a man-made concept. Take a beat. Stop, retreat. Sometimes spending some time alone, and just deciding to not do or think about anything, is just what is needed.
Remember when you are spending time alone in solitude your energy is your own and you can feel centered and complete, as if on your own little retreat, with no interference from the energy of others. This in and of itself can be super sweet!
Things will eventually fall into place. It always does. I know this because I have had some really bad situations befall me in my days, and when I take a step back, as my guides have always reminded me to do, things always turn out for our highest good.

About The Author: Moon Goddess

Moon Goddess is a third generation empathic healer and seer. She started to give healing readings to people more than 20 years ago. She has always been interested and studied all things metaphysical from a young age. Being hypersensitive she can feel and see things before they happen. Utilizing the Tarot, and with the help of her Guides, she is a source of support for many people all over the world. After he passed over, her grandfather kept his promise and came back to say goodbye and gave her the most amazing experience. Moon knows there truly is a Heaven, and it is wonderful! Sharing her experience has helped many people after they have lost someone, or anyone experiencing some form of grief. Get a reading with Moon Goddess now at PsychicAccess.com.