Our Loved Ones In The Realm Next Door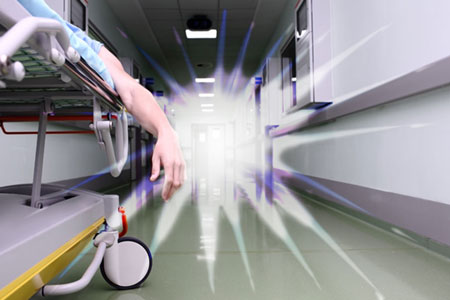 Someone very close to me recently had an unusual near-death experience. It was a profound event she says she will never forget, and it reminded me of the fact that our loved ones are always around us, whether we believe it, or not.
My dear friend had to go into the hospital for an iron infusion. She was severely deficient and the iron supplements she had been taking, weren't doing the trick. Not looking forward to the procedure, and having been told that she could have an adverse reaction to the infusion, she was not at all excited to go to the emergency room.
Soon after they started the infusion, she passed out! But this was more than just her fainting. While she was in this altered state of consciousness, she had repeated encounters with both her deceased parents. She felt their warm embrace comforting her and telling her all was going to be okay, and not to worry.
"We are both with you, we love you and we are here protecting you," they told her. "It is not your time, you still have things you have to do and people around you who love you, and care a lot about you, and need you."
The experience was quite traumatic for my friend. She came to twice, and then passed out again. Three times in total. Being that she is over 70, and considered very weak for her age, the medical staff were concerned for her safety. Thankfully, all went well in the end. Today she feels much stronger and has more energy, as her blood was build back up thanks to the iron infusion. But she says she doesn't think she will be getting such an infusion again anytime soon!
There are many rooms in the Father's House just as there are many grades in school. The period of time we spend on Earth is but one grade of life. It is but a beginning ~ Robert A. Russell
We all have psychic and paranormal experiences involving our departed loved ones, although we are not always aware of these events. Whatever form it takes, it is usually their way of letting us know that they are still with us. When we enter a different state of consciousness, we often tap into a spiritual dimension that we normally do not have conscious access to. Often we also do not remember these experiences afterwards.
I love that my friend had this incredible experience, because she is actually very skeptical of all things metaphysical and paranormal. Sometimes we need these kinds of miraculous experiences to know that we do live on after this life, and that there is more to our world than can be tested and measured.
Although my near-death experience was nearly thirty four years ago, there is virtually not a day that goes by that I am not aware of making decisions based on that experience ~ Geraldine Berkheimer
Energy doesn't die, it only changes form. Our loved ones will find ways to connect with us after their passing. Sometimes they even come to us while we are passed out in the emergency room getting an iron infusion!
You are never alone, even when you feel sick, helpless or abandoned. Those who love us most are usually just in the next room, but some of them are also just in the next dimension or the realm next door.

About The Author: Moon Goddess

Moon Goddess is a third generation empathic healer and seer. She started to give healing readings to people more than 20 years ago. She has always been interested and studied all things metaphysical from a young age. Being hypersensitive she can feel and see things before they happen. Utilizing the Tarot, and with the help of her Guides, she is a source of support for many people all over the world. After he passed over, her grandfather kept his promise and came back to say goodbye and gave her the most amazing experience. Moon knows there truly is a Heaven, and it is wonderful! Sharing her experience has helped many people after they have lost someone, or anyone experiencing some form of grief. Get a reading with Moon Goddess now at PsychicAccess.com.