Happiness Comes From Your Own Actions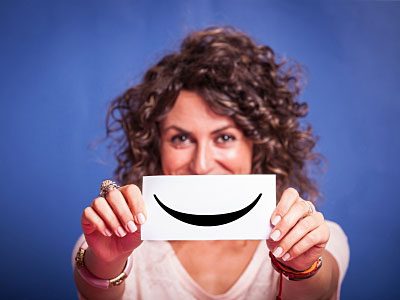 People are too often stuck in a dark place in their lives, thinking that only a relationship, or financial gain, or a new job or house, is going to bring them happiness. The Dalai Lama says, "Happiness is not something ready-made. It comes from your own actions." Take a moment to reflect on this statement. It is the simple truth, yet so many of us have a difficult time relating to the simplicity of it.
We have been brought up in a world where it is often believed that happiness is only achieved through external or material sources. But you and I are each responsible for our own happiness. This is a difficult statement for many to comprehend. How can that be? I have nothing. I am alone. I do not have a job. I do not have money in my bank account. I do not have a soulmate to love me.
The answer is very simple. No one else is responsible for your life, or your happiness. You are the sole creator of your reality. Do you choose to be happy, or miserable?
One of the biggest challenges in trying to be happy right now isn't that we don't know how to be happy. It's mostly that we just don't do it. We don't make the time for happiness, for peace, and for overall joy in our life ~ Kumar Anupam
How often do you laugh? One of the simplest cures that will raise your inner, happy vibration, is to laugh. Think of a joke, watch a funny sitcom or YouTube video. Find your own thing that makes you chuckle, or belly roll with laughter, and see how you are uplifted. Your energy level will rise, and you will have a greater sense of inner peace.
Everyone has a story. Challenge it. Your story is only one person's perspective of the truth. Are you telling an exaggerated story, that grows more depressing or disheartening every time it comes from your lips? Change it.
For example, "I was abused, however now I can laugh about it, and know that I have grown from the abuse. I suffered and I will never let another control me again." Now release the "I was abused" part of that statement, and switch your story up to "I can laugh at life and all the challenges I have in front of me.  I am strong, I am fun loving towards myself and all is well."
Enjoy the journey. Do not worry about the destination at this time. Stop saying, "When I find my soulmate, I will be happy" or "When I get my dream home, I will be happy." Change this part of your journey to, "I am happy and I will continue to be happy and enjoy the journey I am on. When I achieve each step, I will know I have done it with a joyful heart and relish every step on my path."
Take time to enjoy yourself. Take 'me time' every day. How often do you put yourself last in your life? Start to look at how you can be kinder and gentler to yourself. See yourself as valuable, and others will see that as well. See yourself as truly happy with who you are and know that this is only one day of a journey. with many twists and turns. So care for yourself, love yourself and make yourself a priority. No one else will see you this way until you do. 'Me time' is imperative to a happy, healthy life. If you cannot find a few minutes a day for yourself, it's time to seriously re-evaluate your lifestyle and figure out what is occupying your time.
Each morning when I open my eyes I say to myself: I, not events, have the power to make me happy or unhappy today. I can choose which it shall be. Yesterday is dead, tomorrow hasn't arrived yet. I have just one day, today, and I'm going to be happy in it ~ Groucho Marx
Make every relationship in your life count. There are several areas in which relationships are important. The relationship with yourself must always be on the highest level of joy, love and respect. Your relationship with God, Source, Universe is also vital. Talk to your Higher Source, and your angels and spirit guides, as if you are talking with a friend. Laugh, dance and feel joy and love from them, as that is what they bring to your life.
How can others like you, if you don't like yourself? Make the relationships with your friends, children, spouse, significant other, parents, count. That means, don't try to shut everyone out. If you have to be the one to open the doors, step forward and open them. Bring laughter into your relationships. Remember, you cannot be fruitful by yourself. There is always someone else that would benefit from sharing your journey with you.
Balance your life. If you work hard, then play hard. However, remember to be careful here. Everything in life is not serious every day. If it feels this way, it is because you are allowing it to become that way. If you do not balance work and play, you lose a piece of yourself. It is important that you view yourself as important. You matter and it is time for you to recognize that.
You alone are the creator of your own happiness. When others are happy around you, that is a bonus. However, do not depend on anyone else to bring this aspect of life to you. Decide today, "I choose to be happy right now." Do not worry about tomorrow, just live in the moment.
Look at life as if you are riding in a car. You have a rear view mirror and a windshield. The rear view mirror is very small in comparison to the windshield. That is because what is behind you matters very little, however what is right in front of you – that is your destiny. It is important. Look at your life moving forward, and just give the odd glace in the rear view. Smile at the fun, or happy memories. Let the others slide. Decide today, to make new joyful memories. Just smile and then laugh out loud. That is where you will find your peace.

About The Author: Sheri

Sheri is an international psychic and angel reader who provides clear answers on finance, career, relationships, manifesting your dreams, and working-out the kinks of life. Since 2004, Sheri is the owner on an International Spiritual Healing Centre where she runs her Reiki practice - either working on clients or teaching them the levels of Usui Reiki. She utilizes her office space for readings that are conducted via mail, phone, chat or live. Since 2008, she's honed her gifts on various psychic service websites, where she's provided telephone, chat or email readings. She also works on a spiritual network for people who have suffered horrific loss, applying her own first-hand experiences with such tragedies. Sheri's work has been described as honest, compassionate and life-transforming and she would like to see all of her clients soar free to a higher level of spirituality and growth, and exponentially change the world to the best it can be. You can get a psychic reading from Sheri at PsychicAccess.com.