Prayer – A Universal Law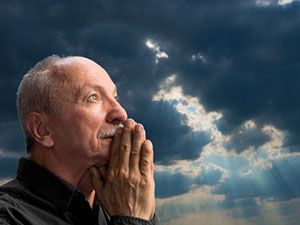 Prayer is a loaded word.  It has become "religified" and it's easy to imagine some smug church lady engaged in the practice.  In my experience, prayer is a Universal Law. We get what we pray for, both spiritually and on a secular basis. It is the Path of Least Resistance, and nature abhors a vacuum. If we get it right, it always works. We get what we pray for.
The downside of getting what we pray for requires carefully choosing what we pray for. Time and time again, throughout history, this choosing has required generations of cleanup. The cleanup is not often successful, because we have not been willing to understand the hindrance of ulterior motives and hidden agendas. Spirit knows all, and there is nothing truly hidden.
Prayer does not change God, but it changes him who prays ~ Søren Kierkegaard
We do get what we pray for. We need to be careful, because karma is also a Universal Law – the Universal Law of Cause and Effect, the Golden Rule, as we give, so we receive. These days, we don't have to be scientific geniuses to understand basic vibratory frequency. It's either low or high, and the frequency of our whole planet is changing rapidly.
It may sound simplistic, but it's not that complicated. It is about being conscious in every aspect of our lives, from what we eat to what we buy to what we believe. What comes out of our mouths is even more important than what goes into them. We need to use our words wisely. Keep a high vibe, choose to be present at all times, show compassion and empathy toward others, without getting sucked into any drama.
These are trying times. For ourselves, the H.A.L.T. acronym (don't let yourself get too Hungry, Angry, Lonely or Tired) has experientially wise application. Pray for peace in the world, pray for what truly matters. There is wisdom in the Lord's Prayer, beyond the currently vapid, "churchy" application.  "Forgive us our trespasses, as we forgive those who trespass against us." This is the scientific application of the Law of Karma.
The more we practice the scientific use of prayer, the more effective it becomes. Used well, prayer can change the world, we can change the world. It is time now to merge science with spirituality. Consciousness is discovering and nurturing the Light-bearers we are meant to be. It is our task to bring Light to Earth.

About The Author: Mountain Sage

Mountain Sage's profession is Metaphysical Academics. Her extensive training includes Oracle, Healing, Universal Laws & Principles, the Sacred Circle and Psychic Shielding. Focus includes Ascended Masters, Altars, Minerals, etc. She holds the great honor of Oracle Carrier by her tribe due to her outstanding psychic ability, passion for the psychic realm, integrity and sacred work. Get a psychic reading with Mountain Sage at PsychicAccess.com.