My Method Of Healing Balance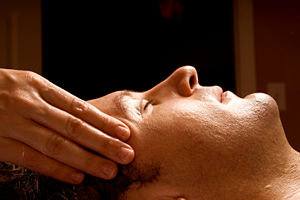 We all have the ability to help and to heal others, but for some of us it's a calling we are drawn to in this lifetime.
I have studied and applied various healing techniques during my working career as a healer. I have always felt that no matter which technique we use, be it hands on healing, massage, or Reiki, healing actually comes 'through' us. When we open ourselves up as channels our spirit helpers can send healing energy through us that frequently creates powerful shifts within the patient. Often it is also to the disbelief of some medical practitioners.
I've created my own healing 'blend' from the various modalities I have studied, and I like to call this Healing Balance. Healing Balance works with particular access points into the body – the 7 major chakras and the minor chakras located mainly at the joints. These chakras or energy vortex centers are our connection with universal energy through which we access deep levels of healing.
All healing is first a healing of the heart ~ Carl Townsend
The Healing Balance technique compliments my work as a spiritual advisor. I often use this method for distant healing on people and pets using a photograph, or a few strands of hair and the results have been rewarding.
I feel that having the customer's highest good at heart plays a great role in the healing process. It is the client's higher self which guides me to locate any blocks which need healing and the order in which each physical, emotional or spiritual issue needs to be addressed.
A healing balance I did today prompted me to write this blog. My client, an attractive intelligent lady in her fifties, has allowed me to work with her using this gentle, yet powerful method to uncover memories, past traumas (early life and past lives), suppressed emotions and toxins which weaken one's health and actually burden their hearts. Over the past year this client has experienced profound shifts, when deep seated traumas from her childhood rape and other emotional abuse in her childhood and subsequent relationships were picked up.
It is reasonable to expect the doctor to recognize that science may not have all the answers to problems of health and healing ~ Norman Cousins
Initially, in earlier healing sessions, less traumatic emotions surfaced, but as we reached deeper to deeply  buried trauma, the reaction from the client was intense and her body shook as the pain she'd endured in past experiences was only too obvious.
Three sessions ago she walked into my healing room and said, "I am ready for whatever needs to be released – I want to begin to put this behind me now". She was ready to peel off very deep layer of negativity and locked in emotions.
She comes back every now again when she feels disconnected from the source of her being, which happens to all of us just from the pace at which we attempt to operate in the world today.

About The Author: Shani

Shani is a qualified practitioner in Reiki, aromatherapy, reflexology, body spin, and animal telepathy who received psychic development training at the Arthur Findlay College of Psychic Research in England. A published writer, her articles and predictions have appeared in several respected magazines and on psychic websites, and she has read for many celebrities and even heads of state in Africa. Though she was born in London, Shani has traveled the globe and has studied the art of African Mysticism, bringing her unique flavor to those seeking her incredible talents. Get a reading with Shani at PsychicAccess.com.


3 Responses to My Method Of Healing Balance