Sitting On The Dock Of The Imaginary Bay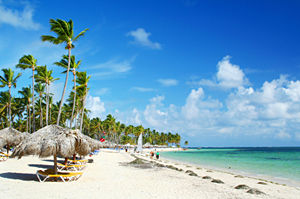 I am, for all intents and purposes, a transplanted 'Islander' who is far, far away from her home… many thousands of miles, in a culture that could not be more different than the one I was raised in, if it tried to be.
The differences in perspective are so very large when you come from a tiny island in the Caribbean. I tend to be much more laid back than, say, someone who may have been born and raised in a big city. I'm not always 'understood' by some who think I need to be a lot more of, well, I have never been able to figure that out exactly, what I should be 'more' of, since I love being me. And after all this time, I know how to be me.
Jamaica is in my blood no matter how far or wide I may travel. The Caribbean Sea, with its crystal blue waters haunt my every move and thought. Yet, I live in the desert, far away from water..the soothing milk of my childhood. The one constant spring, no pun intended, since there is a place in Jamaica known as Constant Springs, when everything else around me was shifting in what was an uncertain childhood. I could always count on the sea to be there to listen to me, or to provide simple soothing sounds while a fan twists softly in the distance.
Home is not where you live but where they understand you ~ Christian Morgenstern
Spirituality, and Spirit overall, runs throughout Jamaica like a vein of gold. But with no water to speak of near me, I have come up with different ways to keep my spiritual side strong and powerful since growing up the sea was my source for spiritual understanding.
The first thing I did was plot a course to be able to stay home and work, that way I could choose when or where I would be around people that didn't necessarily feel or see the things that I did. Now, it took many years of devotion to my craft before I was able to make that happen. Once I did that, I prepared my living and work space so that I would still feel and think that I was living in Jamaica. I have plants everywhere, real ones not fake. Bob Marley posters and sayings share space on my walls with Charmed memorabilia, I will admit. And just like back home I keep candles lit all the time, even during the day. I have fans going all the time along with a hidden from view 'ocean sounds' machine.
If I pretend hard enough I can almost smell the ocean breeze. I'll go sit outside for a while, in our backyard here in the hot and muggy desert, and with the Bob Marley wafting through the outdoor speakers and the smell of brown stew chicken in the air pungent, aromatic and delicious…it's as though I'm sitting on the dock of the bay again with my father and all is right with the world. You can take the girl out of Jamaica, but you can never take Jamaica out of the girl.

About The Author: Asherah

Asherah is a natural born psychic empath born and raised in Kingston Jamaica. An ordained Reverend and High Priestess, Asherah can easily tap into your real truth and help you to see clearly, releasing attachment to outcome by simply focusing on where you are now. Using tarot, numerology astrology and more..you can learn how to communicate your needs today! You can get a psychic reading from Asherah at PsychicAccess.com.