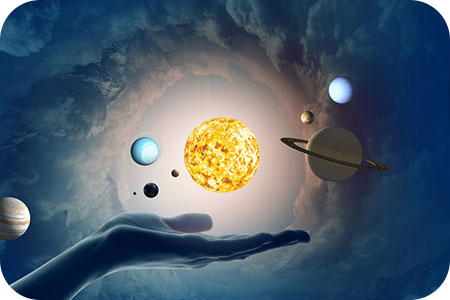 Overall, December 2019 will be a powerful month for manifesting dreams, speaking your truth and launching new projects.
Initially, the Sun will be in pioneering Sagittarius, which will give everyone extra energy to get things moving at a quicker pace. On December 22nd, the Sun then transits into Capricorn, where we become less free-spirited and more entrepreneurial in our day-to-day activities.
Mercury enters Sagittarius on December 9th, which will make our communications friendly, but also more straightforward. Mercury will also be out of retrograde at this time, so there will be less resistance in making progress with relationships and business matters. On December 29th, Mercury enters Capricorn, where leadership becomes a major focus.
The love planet, Venus, starts off in Capricorn this month, which will have us craving something more serious or physical in the romance department, depending on the circumstances. Capricorns are not always the most romantic companions, but do like to give special gifts to show that they care.
Venus will move into Aquarius on December 20th, which makes the holidays more enjoyable, because this sign likes to have a good time! If emotions get triggered, cool off and wait until Venus shifts over to Pisces in January, for deeper conversations about your feelings. Aquarius can become distant if they are already overwhelmed.
On December 12th, there will be a Full Moon in Gemini, which will be an optimal time to finish writing that book, launch a new website, or reach out to a special friend. It will also be great for integrating inner duality to help achieve oneness with your spiritual self.