Spirit Will Guide You Through Life's Murkiest Fog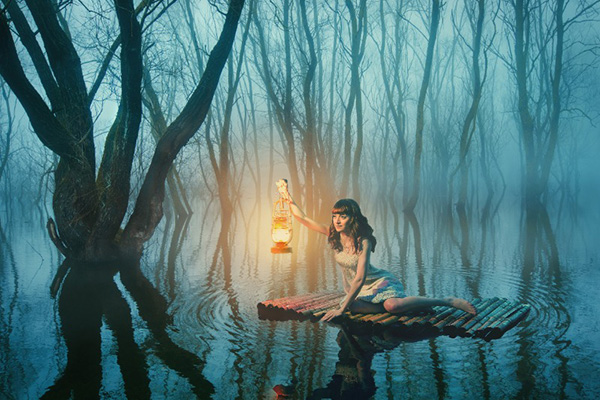 This time of year, I am usually way too busy to spend much time relaxing on my porch, but today, I just felt it was high time for some 'me time.' Yes, psychics and mediums tend to be great at giving guidance to others about the necessity for taking some 'me time,' but not so good about following our own advice.
It is always so calm and peaceful to just rock away in my favorite chair on the porch, feeling the energy of the ocean. It is a wonderful time for me to meditate and connect with my spirit guides and loved ones in spirit.
Looking out over the ocean, I observed some 'sea smoke' over the water. Sea smoke, also known as 'frost smoke' or 'steam fog,' is a type of fog that arises when extremely cold air moves over warmer water.
The sea smoke can become so dense that it is impossible for sailors to clearly see all the boats and yachts on their moorings. This is when one hears the tugboat's foghorn guiding the big tankers safely to their destination. Although it is a strange, eerie sound, it is also reassuring to know the boats can find their way through the sea smoke.
As I came out of meditation, I noticed the sea smoke had finally started to lift. I could now see the red tugboats and the sun was peeking through the clouds. It looked like a slice of heaven to me.
Then the thought came to me how symbolic this beautiful sight was of life's challenges and how we can overcome adversity more easily with the support and guidance of spirit.
Finding oneself and one's path is like waking up on a foggy day. Be patient, and presently the fog will clear and that which has always been there can be seen. The path is already there to follow ~ Rasheed Ogunlaru
When we are stuck in a difficult, murky situation, it is often difficult to see our way out of it, and sometimes impossible to imagine that all can ever be well again. There are times in life when it feels like you will never be happy again, or at peace again, or be able to smile again. It can feel like one is lost in a maze of sea smoke. These are the times it becomes imperative that we reach out to spirit for support, guidance and assistance through prayer, meditation, divination, and other spiritual practices.
The miraculous thing about life is that time heals all wounds and things always do get better again. Even our worst troubles and obstacles eventually will begin to fade, just like sea smoke.
The sun will indeed break through again, and once we can see a little clearer it becomes easier to navigate challenges, find solutions, inner strength, or healing, and ultimately go on with life. Until then, rely on God, Source, Spirit, the Divine to comfort and guide you like a tugboat foghorn towards clearer, calmers waters.

About The Author: Elizabeth

Elizabeth's talents go back several generations. She found her own gifts and embraced them at an early age, recognizing the difference between herself and most others around her. She's since honed and mastered many metaphysical practices, providing hypnotherapy, Psychic Mediumship, Mysticism, and Hypno-Reiki to her clients in Maine, and in areas around the US and in Canada, where she travels. A lover of pets, they are her greatest teachers and these unconditionally loving creatures often chime in on a reading in addition to the Angels, Guides and loved ones who provide resolution and answers for each of her clients. Elizabeth is also an author with much spiritual wisdom to impart and is currently working on a book. If you'd like to be a recipient of her unique Psychic Wisdom, find peace and receive answers that will also benefit your highest good, you can reach Elizabeth at Psychic Access.