The Power And Beauty Of Your Inner Divine Light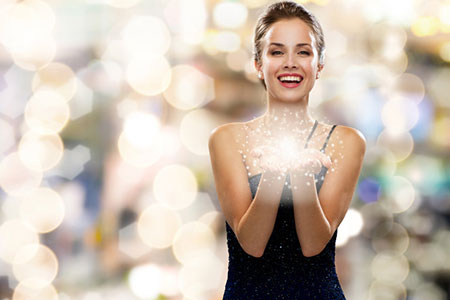 A friend recently asked me to help her hang a new chandelier. And reluctantly, I agreed to give up my treasured Sunday evening movie time to help with the project.
Arriving at her house, I found her with a very heavy box nearly five feet tall. At first, I could not fathom the actual size and shape of the chandelier hidden beneath the layers of packaging and thick pieces of unyielding plywood and cardboard.
I was surprised to eventually find what seemed like a chaotic mess of tangled wires affixed to hundreds of tiny quartz crystals. Could it be a warehouse or shipping mishap, I wondered?
I stepped back and took a deep breath, asking myself if I had maybe taken on more than can handle. But before I could speculate any further, my friend proceeded to life up the chandelier to allow each of the seemingly coiled wires to gently fall into place!
I was amazed at how something that appeared so entangled and messy one moment, could suddenly transform into this breathtaking spectacle of sparkling light. Then we added the large quartz stones for the ends to complete the fixture, and soon it was hanging in my friend's dining room. And I stood back in awe of its magnificent beauty. I was speechless.
This experience reminded me of those times in life when everything seems to be upside down and off-kilter. Those unexpected situations that render us temporarily overwhelmed. I have no shame in admitting that I have succumbed to feeling somewhat defeated in moments like that.
But what I have also learned with the guidance of Spirit is there is always the opportunity in our lives to transform with just a little bit of courage and perseverance a seemingly messy dilemma into something positive and beautiful. No matter how difficult a situation might appear, there is always a silver lining.
No degree of worldly darkness can extinguish the glow of a soul's inner light ~ Wes Fesler
We not only grow spiritually from difficult times; such events also force us to broaden our personal horizons by pushing us beyond our comfort zones. It is imperative that during such times of extreme uneasiness we allow hope, faith, and determination to fuel our minds and spirits, as we dig down deeper and reach up higher.
It is from the deepest wells and highest peaks of our spirit (often left untapped) that the most incredible outcomes manifest. Remember, there is always calm after every storm. Follow the light in all that you seek, for the light shall always meet us.
As I stood there, admiring my friend's beautiful chandelier, all I could see was the light – the beautiful light emanating from an array of crystals that sparkle like celestial spheres. Not once did I reflect on the tangled mess that lay drooped in the oversized box.
Listen to the inner light; it will guide you. Listen to the inner peace; it will feed you. Listen to the inner love; it will transform you ~ Sri Chinmoy
Instead, all I could think of was the expedient, endless power of Spirit to bring light to our darkest moments and empower us with its many miracles of healing, joy, love, peace, life, abundance, and so much more.
Let your life challenges and moments of darkness serve as sacred passages towards unleashing your inner divine light. No matter how painful or daunting, the difficult times shall pass. Take courage in knowing that a bright new day always follows the longest of nights.

About The Author: Shawna

Shawna lives in the American Southwest and is a third generation Spiritualist and Clairvoyant. She recognized her own gifts at a young age, fully embracing her calling as a Clairvoyant, Medium, Spiritual Astrologer, Tarot Reader, Aura Reader, Water Reader, and Healer, training under the tutelage of some truly gifted mentors. Shawna utilizes her natural psychic gifts to help individuals navigate through personal challenges and discover the higher manifestations of their life paths. She's provided positive, spiritually responsible, and ethical readings in-person, over the phone, and online, and has read for clients in Los Angeles--at psychic fairs--and at the Crystal Gaze Spiritual Center, in Lakeland, FL. She is also a trained practitioner in Clinical Herbalism (University of New Mexico), Ayurveda Medicine (San Diego College of Ayurveda), and Reiki. Shawna has channeled messages for political leaders, celebrities, and has accurately predicted the outcome of national campaigns, as well as a big career opportunity for a talented actor that resulted in a Tony Award! If you'd like an enlightening and empowering, full-spectrum of guidance, you can find Shawna at PsychicAccess.com.