When Your Manifestation Becomes Stuck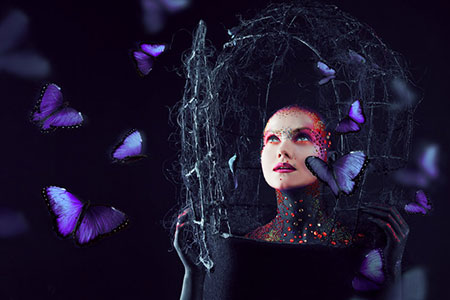 Have you been asking Spirit, God, the Universe for the same thing for years? Has true love been on your manifesting to-do list for as long as you can remember? Are you constantly struggling with your finances? Are you still looking for that dream job?
It is not as if you have done nothing to make miracles happen for you. You have been working faithfully with your guides and the angels. You have studied the Universal Law of Attraction and the art of manifesting. You have consulted psychics, mediums, healers, diviners and astrologers, and all of them have been telling you 'it's coming.'
But still, nothing.
So, what gives? Why has your heart's desire not arrived yet? I hear this question time and again from clients and I have even dealt with it myself in my own life. So, if this is happening to you, you are certainly not alone.
And no, your intuition is not 'broken' and your guides are not ignoring you! The Universe is not too busy making other people's dreams come true. There are many factors involved in successful manifestation and various possible reasons for the lack of results in your life. Often all you need is a few simple adjustments to create the perfect climate for receiving divine guidance and many blessings.
Firstly, there is the aspect of divine timing. It is often true that we must first work through some very important life lessons and do some personal work, before you can receive what it is we truly desire.
If you truly feel you've done all your work, but your desires still are not manifesting, then ask your guides if there is something you are missing, or have possibly been unwilling to see, that is still holding you back. This is also a great time to get a second set of eyes on the situation.
It may also be that those involved in the fulfillment of your desire have not completed their work. In that case, either resign yourself to be patient while setting an intention for them to make rapid progress, or ask your guides if a suitable replacement can be found that is willing to step up now and step into the role.
Don't get stuck in old ideas. Keep recognizing that reality is changing and that your ideas have to change ~ Grace Lee Boggs
Another piece to this is making sure you are asking for the right things and that you are focused on the right desires. Sometimes we are so fixated on someone we think would be our perfect soulmate, or the perfect way to fulfill our life purpose, when our soul actually has someone or something else in mind.
We may be caught up in the current circumstances of the situation and believe that what is right in front of us is all that is possible, instead of expanding our consciousness into the infinite and allow space for miracles to flow.
Often, when things are not working in our relationships or other areas of our lives, we become frustrated and look for other ways to improve our situation. We take on more classes, read more books, or seek advice from multiple sources and practitioners. While all this research is good while we are still in the data gathering mode, when we are seeking to actually manifest, this type of energy actually gums up the works and slows things down. To manifest we need to focus our energy and intention with clarity.
If you limit your choice only to what seems possible or reasonable, you disconnect yourself from what you truly want, and all that is left is a compromise ~ Robert Fritz
We often also worry that we are doing something wrong. Feelings of doubts and fear may begin to creep in. At this point, the best thing to do is slow down and do nothing. This advice sounds counter-intuitive, especially in our fast-paced, go-getter world, but the minute we slow down, our energy relaxes, and we become quieter and more receptive, which is the perfect climate for us to receive divine guidance and blessings.
So, if there is an area in your life where you have felt stuck for quite some time, or something you have been continuously hoping to manifest for your life experience, take some time, work these processes, and reflect. Then watch things begin to shift, because even in quiet contemplation your energy stabilizes, and divine support can flow to you more easily.

About The Author: Megan

Megan was born with wide open gifts, experiencing dreams and premonitions at a very early age. She has had 30 years of daily tutelage from Guides, Archangels, Ascended Masters, and the Ashtar Command. Since 1993, Megan has been providing honest and compassionate readings and healings, starting with friends and family, then transitioning to a professional practice, in 2006. She's certified in various psychic and healing methods, including Reiki, Angel Work, and specializing in relationship readings, giving detailed info on how long a relationship will last, whether the partner is honest, and what their intentions are going forward. Megan has accurately read for clients around the world. She is very proud and grateful for her client loyalty and has a long list of devoted clients who have worked with her for years, many since the inception of her practice. To get a life-changing psychic reading with Megan reach out to her today at PsychicAccess.com