The Extraordinary Treasure Of The Ordinary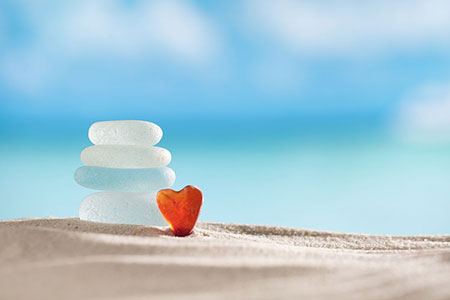 It is unfortunate that so often tend to take the ordinary for granted. Ordinary things that we do not consider unusual or special is seldom something we excited about. But the very things that one person might consider ordinary, is a magical treasure to another.
When I was about six years old, I remember being at the ocean looking at some beach roses, when a butterfly landed on one of the roses right in front of me. Even at that age, I intuitively knew this was somehow a special and significant sign. My dearly departed grandmother used to love beach roses and butterflies. I did not know it at the time, but right then and there these two things became my future mediumship symbols for someone's grandmother in spirit.
I thought it was the most beautiful butterfly I had seen in my young life! I was excited to have my sister see and experience the beauty of it, so I called her over. To my surprise she shrugged and said, "No big deal. I see butterflies like that all the time."
Her cynical reaction took some of the joy out of the experience for me at the time. At that young age, my older sister's opinion on things mattered a great deal to me. But I have grown wiser over the years.
Later in life, I could not help but wonder why my sister did not see the world as I did in those days? The answer that eventually came to me was that it is all in the timing. It is about what is going on in our life at a given moment in time. One day we may look at things a certain way and not really see them as beautiful or anything special, while on another day we might be thrilled and amazed by the exact same things.
For example, we frequently travel the coastal road in my area. One day last summer, at the height of the pandemic, we were slowly driving along this road. with no rush to be anywhere at a designated time. Normally we would be in a hurry to get somewhere, but due to Covid-19 there was nowhere urgent where we needed to be.
It never failed to amaze me how the most ordinary day could be catapulted into the extraordinary in the blink of an eye ~ Jodi Picoult
I mean, it was the same old road I travel daily, always in a rush to get somewhere, but slowing down now seemed to make me see everything quite differently. I started seeing things I had never really noticed before. The architecture of the beautiful old sea captain's houses along the roads now seemed to be calling for attention. The magnificent lupine flowers that grow along the roadside were somehow glowing. The sand and the different colors of the wave; the lobster boats bobbing up and down.
Suddenly, my heart was filled with emotion. How could this daily drive ever be taken for granted or ordinary ever again? How marvelous is this world. Not a single thing about nature, human achievement, and the planet we live dare to be seen as ordinary. It is all extraordinary! Oh, to suddenly experience gratitude for the things that just the day before seemed very ordinary and mundane!
Another miracle for me is modern technology. I am amazed at how my grand kids are all a wiz on the computer and their cellphones. They have seem to have the mystical powers of ancient shamans and magicians when they start tapping away on their shiny modern devices!
We have one precious life: do something extraordinary today, even if it's tiny. A pebble starts the avalanche ~ K. A. Laity
I remember the day when the whole family used the share just one phone attached to a cord. There was no texting and time you could talk was limited, because we had a shared 'party line' with three other families. Can you even imagine that today?
It will never cease to amaze me, for example, that we can be hiking deep in the woods and have cell reception. So, what may seem ordinary and' no big deal' today for my grandkids born in this great age of digital technology, is out of this world for their grandparents!
When the grand kids come to visit us, the first thing they usually do is head out to the beach. Later they will return all smiley-faced and proud to show me the treasures they had found. They always bring me some sea glass, so I can keep it as a souvenir of their visit. The most treasured, rare find is a piece of red sea glass. For some people sea glass on the beach is a nuisance that they are always watching out for to not cut their feet. For me it is a precious treasure.

About The Author: Elizabeth

Elizabeth's talents go back several generations. She found her own gifts and embraced them at an early age, recognizing the difference between herself and most others around her. She's since honed and mastered many metaphysical practices, providing hypnotherapy, Psychic Mediumship, Mysticism, and Hypno-Reiki to her clients in Maine, and in areas around the US and in Canada, where she travels. A lover of pets, they are her greatest teachers and these unconditionally loving creatures often chime in on a reading in addition to the Angels, Guides and loved ones who provide resolution and answers for each of her clients. Elizabeth is also an author with much spiritual wisdom to impart and is currently working on a book. If you'd like to be a recipient of her unique Psychic Wisdom, find peace and receive answers that will also benefit your highest good, you can reach Elizabeth at Psychic Access.