Slay Those Demons This Festive Season!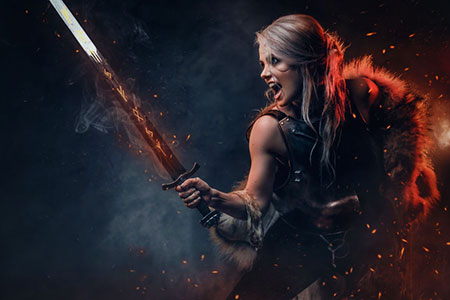 In my many years on God's earth, I can earnestly say I feel I have 'slain more dragons' than St. George, 'cast out more demons' than the priest in The Exorcist, and conquered much bigger giants than young Jack when he climbed up that beanstalk. I am not hoping to gain sympathy by saying this, but merely to state that if I can put down my personal demons, with Spirit's help of course, then I could help you do the same.
The year 2020 has been one of far too many challenges for most of us. Some of us have had to deal with unusual difficulties and challenges we may have never encountered otherwise. For me, it began with a cancer scare, then continued with the outbreak of the Covid-19 pandemic, and ended with me supporting my husband through a bout of deep depression. Indeed, 2020 is a year I will never forget, as much as I may want to!
However, my guides have been reminding me that I have also gained some blessings from this year. For one, I would say that my inner resolve has grown much stronger, and my desire to be of service and help others have reached an all-time high.
I am not suggesting that everyone must have reasons to appreciate the challenges this year brought, but as 2020 draws to a close, I do hope that the following practical strategies may help you to 'slay some demons' and end this year on a more positive note, in order to start next year with more optimism, hope and joy.
Find An Inspiring Role-Model
The one person who has always given me a sense of strength is the late Martin Luther King.  He famously said, "The ultimate measure of a man is not where he stands in moments of comfort and convenience, but where he stands at times of challenge and controversy."
Whenever I am in a difficult, stressful situation, I always ask myself what would Martin Luther King do in my situation? In fact, I even imagine him by my side, giving me all the strength and motivation that I need at any given time. You can do this too by finding yourself a hero or heroine that inspires you.
Courage doesn't happen when you have all the answers. It happens when you are ready to face the questions you have been avoiding your whole life ~ Shannon L. Alder
Engage With Empowered People
It is much more empowering to surround yourself with friends who are strong, confident, hopeful and courageous, instead of those with a victim mentality who are forever negative, complain all the time, fearful of everything, pity themselves constantly, or even promote conspiracy theories and fake news. Also, do not engage with those who are so eager to tell you that you are going to fail in your endeavors! Avoid the energy thieves in your life as much as possible, if not completely.
Empowered friends love to help others with overcoming their issues in life and thankfully there are still resilient and inspiring people are out there. Engage with them and learn from them. Always aim to surround yourself with people who inspire you and help you grow as a person.
Read An Uplifting Book
I remember writing to a psychic for help when I was only 23 years old. I needed guidance with regards the cycle of domestic abuse I was trapped in at the time. She advised me to read the book The Colour Purple by Alice Walker. Reading what the main character had to endure, it gave me a sense of pride, strength and hope, and ultimately changed my life.
There is a story out there that could do the same for you, but it does not really matter what book you read to find inner strength and courage. What does matter is that you feel stronger and more motivated with every chapter you read.
Watch A Motivating Movie
The one film that always inspires me when I am feeling low is The Edge with Anthony Hopkins and Alec Baldwin. I have watched it about 16 times! In case you haven't seen it, it involves two men surviving a plane crash in Alaska, who are then stalked by a hungry bear! It is a film about human resolve and how brave we can really be when the going gets tough.  Find a favorite movie that inspires you or uplifts your spirit in dark moments. There are many to choose from!
True courage is about facing life without flinching. I don't mean the times when the right path is hard, but glorious at the end. I'm talking about enduring the boredom, the messiness, and the inconvenience of doing what is right ~ Robin Hobb
Keep A Dream Journal
Our dreams are a great source of inspiration and motivation. Spirit comes to us in our dreams every night, to let us know how to slay our personal demons, and lead a more empowered life as a result.
I had a dream one night of being locked in a room with a hungry Siberian tiger! Fortunately, I found a clever way to stop that tiger from eating me, because in  thia dream I found a ball and started to play with the tiger. What the dream taught me was that a good way to overcome adversity is to learn the art of interaction and negotiation, rather than going for a direct challenge or confrontation.
Conquering dragons and giants can be arduous, acknowledges spirit, but you need to look at the end result of what the challenge will bring you. It may come in the form of increased self-esteem, greater confidence, more resilience, renewed ambition, greatly flexibility, or a firmer resolve. How good is that?  While you are battling those demons, remind yourself what the personal benefits are going to be. Doing so should help you to remain motivated and focused on doing that what you need to do to achieve the desired end result.

About The Author: Lucinda

Lucinda is a highly trained Intuitive and Empath, living in a beautiful village in North Yorkshire, England. She possesses the rare gift of understanding a client's personal pain and has been through many challenges, herself, which has only made her stronger! It is both her calling and her happiness to help those in need. And whenever she needs a little help herself, her Guides are always there to assist in her development and provide clear interpretations for her clients. Prediction has always been a great tool she could count on to accurately foretell events, but Lucinda also draws on her expertise with Dream Interpretation, Numerology, Angel Cards, Law of Attraction and Life Coaching to provide full and detailed solutions to any problem. A member of AMORC and Beyond Freedom Evolution, she provides inspiration, education and personal support for spiritual development. If you'd like answers or want to attract your desires, you can find Lucinda at PsychicAccess.com.