Pay It Forward With Holiday Gratitude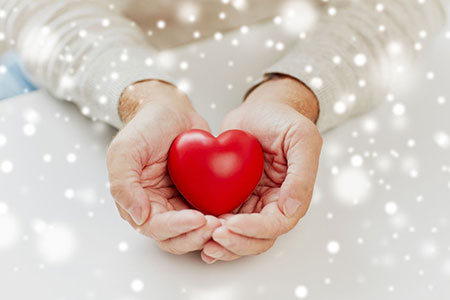 As the year end approaches, most of us would normally be shopping, entertaining and gathering with friends and family to celebrate the various holidays and the New Year. Lots of special food, drink and laughter would also be the order of the day!
With a few exceptions, many of our usual traditions are however being curtailed this year due to the COVID-19 pandemic. This year, at a time when holiday shopping, traditional music and festive lights usually brighten the scene, many of us will have to be low-key and socially distanced, even isolated and alone.
In addition, although many people will be able to celebrate virtually, those with limited access to technology will not, so some loved ones will be forced to limit their contact to the telephone only, or even do without.
It is therefore even more important this year to think of those who will not be able to find an easy way to compromise or 'make-do' with alternative online shopping or virtual socializing.
Give thought to those you personally know who may have been cut off from their usual social activities, friends and relatives. Perhaps you can make an extra phone call or two, or send an old-fashioned Christmas card by postal mail, or surprise them with the delivery of an unexpected little gift.
Let just one person outside your intimate family circle know that they are still in your thoughts, even though you cannot visit or see them in person. It can make really make a world of difference for someone who is unable to get out to visit friends, or welcome family this year.
Many people have also lost loved ones in recent months and will be grieving this Christmas, instead of celebrating. If you know someone who is in this predicament, do reach out to them and offer a comforting word and some emotional support. Even just a little can go a very long way!
Feeling gratitude and not expressing it is like wrapping a present and not giving it ~ William Arthur Ward
Then, when all is said and done, take some time to acknowledge the gratitude you feel for what you do have, for what you can do, and for whatever family, friends, health and happiness that you personally still enjoy.
Life is not perfect for any of us. It never was, and it never will be. However, many of us forget to be thankful for the little things that are so easy to take for granted in the midst of hectic workdays, virtual meetings and online schooling.
Pause for a moment. Reflect on how far you have come, despite this universal jolt to our collective consciousness. Give yourself credit for what you have been able to accomplish, even if it was not up to your usual discerning standards, due to truly bizarre external forces this year.
Be kind to yourself. Give yourself a break when it comes to expectations of perfection for you and others. Know that you are doing the best you can with whatever resources you have and that this, too, shall pass.
I would maintain that thanks are the highest form of thought; and that gratitude is happiness doubled by wonder ~ G.K. Chesterton
Then, when you are ready, gather up your bolstered energy of gratitude and renewed resolve to make the best of trying circumstances as we venture into the New Year.
Do what you can. Live your best life, to the degree that it is currently possible. Be grateful for the changes you can make and the happiness that you can still give to others.
In the words of the American poet, Maya Angelou, "I've learned that people will forget what you said, people will forget what you did, but people will never forget how you made them feel."

About The Author: Monica

"What you think about, you bring about; what you believe, you become." This is Monica's philosophy, derived from her twenty-five years of experience as a Clairvoyant, Light Worker and Medium, living in Ontario, Canada. Monica has been a guest speaker at various Spiritualist churches, conveying Spirit greetings and messages from loved ones during Sunday services, All Mediums Nights, Healing Services, Meditation Services and special fundraising events. She's been an advisor to several international business leaders and connects with all of her clients on a level of love light and empathy. She delivers messages containing ideal outcomes and positive solutions with the help of her guides. If you'd like Monica to help shape your destiny, you can find her at PsychicAccess.com.