Teaching Your Child 'Magic'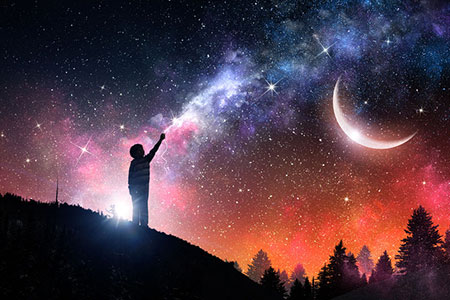 My son, who is 4 years old, is also psychic. I have nurtured his psychic ability since birth. I listened to his stories about the other side, angels and how he chose me us as his family and chose his looks. I never doubted him or questioned whether his statements and experiences were real, or not.
I also teach him about  setting intentions, deliberate creation, manifesting, affirmations, energy healing and the Law of Attraction. We call it 'creating magic.' We wave our hands in circles and say something like, "Magic, magic, magic…sending love and healing light to protect and strengthen you!"
Whenever there is a commercial or television show about children in hospitals, or animal welfare, or experts talking about Covid-19, or anything else that causes suffering in our world, my son and I do 'magic' to help those people heal, or save the animals, or make the world a more loving and peaceful place.
Teaching your child these metaphysical principles not only cultivates empathy and compassion, but it also helps them feel that they are powerful and have enough agency to take good care of themselves and to help others.
I have noticed the difference between my son and other children, who have not been exposed to this kind of spiritual outlook. My son seems empowered, confident and in control, while some of his peers tend to be insecure, fearful and quick to complain that they cannot do something, or that certain things are simply too difficult for them to handle.
Because of this, my son has developed both his natural empathic abilities and his natural healing abilities way beyond his years. He even makes magical healing potions outside, using his own recipes and ingredients. I find he also is more aware of other people's struggles and life challenges, and he is more attentive with the needs of others than some of the other kids he is sometimes playing with.
If you want children to continue dreaming to the moon and beyond, then dream with them, both by sharing your fervent dreams, and by diving heart first into their own ~ Vince Gowmon
Teaching your children metaphysical concepts and spiritual values is not only beneficial to them, but also to others. Some of us are raising the next generation of seers, healers, teachers and leaders. Our world needs more people like that, and more unconditional love, kindness, compassion, faith and hope. We simply can't have too much of any of that.
Make the effort to raise your child with more spiritual and metaphysical awareness. They will thank you for it someday.

About The Author: Satya

Satya lives in Northern California and is a natural Clairvoyant, Empath, Conduit, teacher, author, animal lover, healer, Reiki Master and an advanced yoga instructor. She has provided valuable psychic assistance to Hollywood stars, athletes, and everyone else in-between. A multi-layered Intuitive, with many unique gifts at her disposal, she can give you a doorway into the past as well as a gateway to a happier future. With her long distance energy work, she provides healing for people and animals too! She instantly spots karmic connections from past lives that directly affect current situations, helping clients to move through them quickly. For accurate solutions on just about any pressing problem, you can find Satya at PsychicAccess.com.