How To Have Peace And Calm This Christmas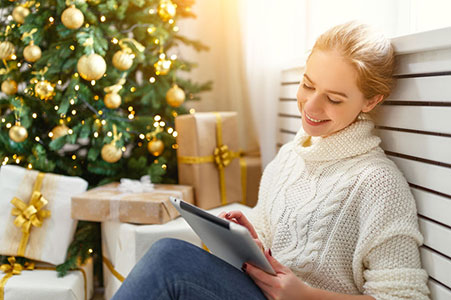 The year 2020 has been quite a year! The pandemic has turned the world upside down. Given what we have all been through, there is now an increased emotional need to have something to celebrate, and with Christmas around the corner, we have just that.
However, as magical a time of year as Christmas may be, it can still be somewhat stressful, and this year may prove even more challenging due to the need for safety precautions, social distancing and travel restrictions.
Nevertheless, with a little pre-planning, you should be able to get your Xmas off to a good start and enjoy the celebrations to the maximum without experiencing too much stress and drama in the process! How good is that?  Here's how.
Set Clear Intentions
Given the kind of a year we have experienced, we can indeed be excused for not celebrating a perfectly traditional Christmas this year. We are now in an excellent position to enjoy the kind of Christmas that we prefer.
Let go of the idea this year that Christmas must be 'perfect,' and that you must make it that way for everybody. Set instead a clear intention for what your ideal Christmas will be. After that, all you need to do is make plans that go along with your vision. Having established what Christmas really means to you, you can then use it as a guide to prepare your celebrations.
Keep It Simple
Simplicity ensures peace and calm, whereas complexity causes stress and drama.  It really is as simple as that! It is imperative that any Christmas plans you make are as simple, straightforward and as streamlined as possible. Doing so should help to create a sense of calm and empowerment, which you will no doubt need to take into the New Year with you.
Never be in a hurry; do everything quietly and in a calm spirit. Do not lose your inner peace for anything whatsoever, even if your whole world seems upset ~ Saint Francis de Sales
Christmas Is Not Just One Day
Indeed, the Christmas holiday is a season. It is 12 days in fact, starting on 25th December and end on 5th January – hence the 12 Days of Christmas. Taking this on board should help to alleviate any sense of urgency about having to have everything in place for the big day itself. Again, reducing stress levels while helping to induce a sense of calm and enjoyment.
Remember To Self-Nurture
Spirit teaches that self-care is essential all year round and should not be neglected at Christmas. Therefore, if you want to feel good from January onward, look at what you need to do in December to nurture yourself. Having done so, do not compromise on this. Stick with that yoga class, monthly massage, hairdo or manicure, as this helps to keep you feeling and looking great over the festive period, and beyond.
Focus On Those You Love
Family gatherings and Christmas parties are going to be somewhat different this Christmas. This does not mean, however, that you cannot spend time, exclusively, with those whom you love the most. Nothing prevents you from arranging a family event online, using video conferencing platforms like Zoom, Skype or Facetime. Schedule this if you can – even if it merely means having a good old natter with a loved one. And if all else fails, at least make that phone call. Take the time, it will not be wasted.
Remember The True Meaning Of Christmas
It is important to remember that Christmas is about celebrating the birth of Jesus.  "Glory to God in the highest, and on earth peace to men on whom his favor rests," was the message from Archangel Gabriel to the shepherds.  Please notice the word peace in this sentence. Christmas is about peace and goodwill, not stress and pandemonium. That is what this time of year is all about. Indeed, this is the real message of Christmas.
Create Just One Beautiful Thing
As a young girl in the 1960s, my 'beautiful thing' was to decorate the Christmas tree! It does not really matter what your beautiful thing is, but be sure to find one. Bake some cookies for loved ones, or build a snowman in the garden, or make some gifts for a local charity. Wit does not matter what you choose to do; what matters is how much passion and pleasure you get from your Christmas experience.
Peace can become a lens through which you see the world. Be it. Live it. Radiate it out. Peace is an inside job ~ Wayne Dyer
Spare A Thought For Others
Spare a thought for those who are by no means as fortunate as yourself. It is a sad fact that there are people who will be homeless and hungry this Christmas, and without the support of any loved ones. Let us remind ourselves how fortunate we are to be able to create a happy Christmas experience for ourselves and those we love. Donate to a local charity, or volunteer some of your time. Reach out and touch the life of just one person in need. It will add new meaning to your Christmas, and your life.
Take Time To Relax
As a child, I could never relax on Christmas. There was simply to much anticipation and excitement! But I have come to learn as an adult that it is far better to chill out – particularly when the day itself arrives.
Therefore, I have learned to be more reflective at this time of year by looking at what I have achieved, rather than what I have not done, to create the best Christmas possible. Trust me, a little bit of self-gratitude and personal appreciation can go a long way to making Christmas a calm, pleasurable experience!
Make More Of 'Twixtmas'
In case you don't know, Twixtmas is the time between December 27th and the New Year. This can be a very ambient time of year, as a lot of people are still off work, and as a result, the world is in a much more relaxed place. So, why not enjoy this time to the hilt by reveling in this quiet period. Use the time for yourself and reflect on all the good you have done in 2020 (no matter how challenging it has been. Use this time to also plan, with quiet confidence, an incredibly happy 2021.

About The Author: Lucinda

Lucinda is a highly trained Intuitive and Empath, living in a beautiful village in North Yorkshire, England. She possesses the rare gift of understanding a client's personal pain and has been through many challenges, herself, which has only made her stronger! It is both her calling and her happiness to help those in need. And whenever she needs a little help herself, her Guides are always there to assist in her development and provide clear interpretations for her clients. Prediction has always been a great tool she could count on to accurately foretell events, but Lucinda also draws on her expertise with Dream Interpretation, Numerology, Angel Cards, Law of Attraction and Life Coaching to provide full and detailed solutions to any problem. A member of AMORC and Beyond Freedom Evolution, she provides inspiration, education and personal support for spiritual development. If you'd like answers or want to attract your desires, you can find Lucinda at PsychicAccess.com.